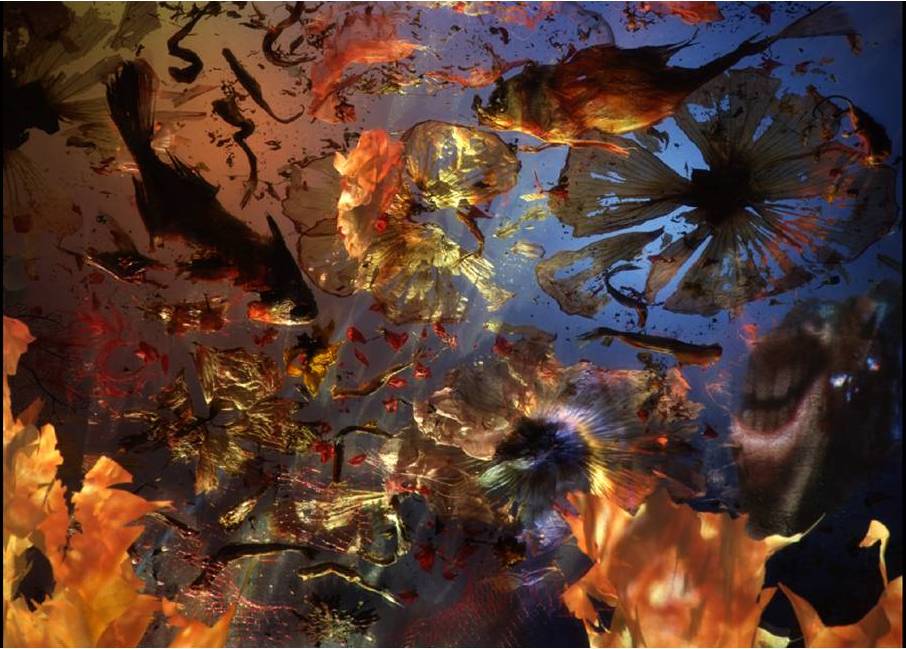 September 7 – October 20, 2007
Since the early 1980s, Jane Calvin has been developing a personal artistic style that is undeniably her own.  The photographs she creates are made by building large installations, often room-sized, where she combines slide projections and physical objects, text found in pulp romance and mystery novels or children's books, and words and letters written out in Calvin's own hand.  Images are often layered over assorted women's clothing, doll parts, and miscellaneous items that seem to float in isolation against a void or mesh into the complicated fabric of a heavy curtain. Calvin's use and creation of space is remarkable and clearly a cornerstone of her work, which is visually dense, complicated and painterly.  Added to the mix and unifying the pictorial plane is the routine usage of what is unmistakably Calvin's combination of vivid color and rich black. 
Photography has always carried a built in element of believability and it is that very thing that Calvin uses so masterfully. Calvin's work functions on a high intellectual plane; it is fabricated yet real, illusory but concrete.   In the digital age where PhotoShop is available to nearly everyone, Calvin's work is a testament to craftsmanship.  Shot with 35 mm film a single image can take her months of painstaking adjustments and fine tuning to create the desired combinations, with no darkroom manipulation. 
Calvin's fabricated photographic images rely on a demanding visual intensity, and as a result they reach us on several levels.  The densely layered images that she builds present us with a range of concerns and ideas that both challenge and confront us.  Woven into her work are issues of female identity, childhood experiences, love, gender, sexuality, mystery, danger, and more … much more.
Pivotal to Calvin's work is the use of found objects as pictorial elements.  The same elements that we see, process, make judgments about, and mentally carry with us our entire lives are in Calvin's work.  They are familiar, yet mysterious again.  It is through those reclaimed images that she points to societal and individual concerns that touch all of us.
Jane Calvin was born inChicago. She received her MFA in photography from the School of the Art Institute of Chicago (1982) and her BA fromBrynMawrCollege (1959). She is the recipient of an NEA Visual Artist Fellowship, an NEA Regional Visual Artist Fellowship, and seven Illinois Arts Council grants. Her work has been exhibited fromBeijing toChicago and is included in the permanent collections of the Art Institute of Chicago, Polaroid International Collection, Detroit Institute of Arts, Minneapolis Institute of Arts, andIllinoisStateMuseum, among other public and private collections. She has been an adjunct instructor in the photography department at Columbia College, Chicago since 1988.