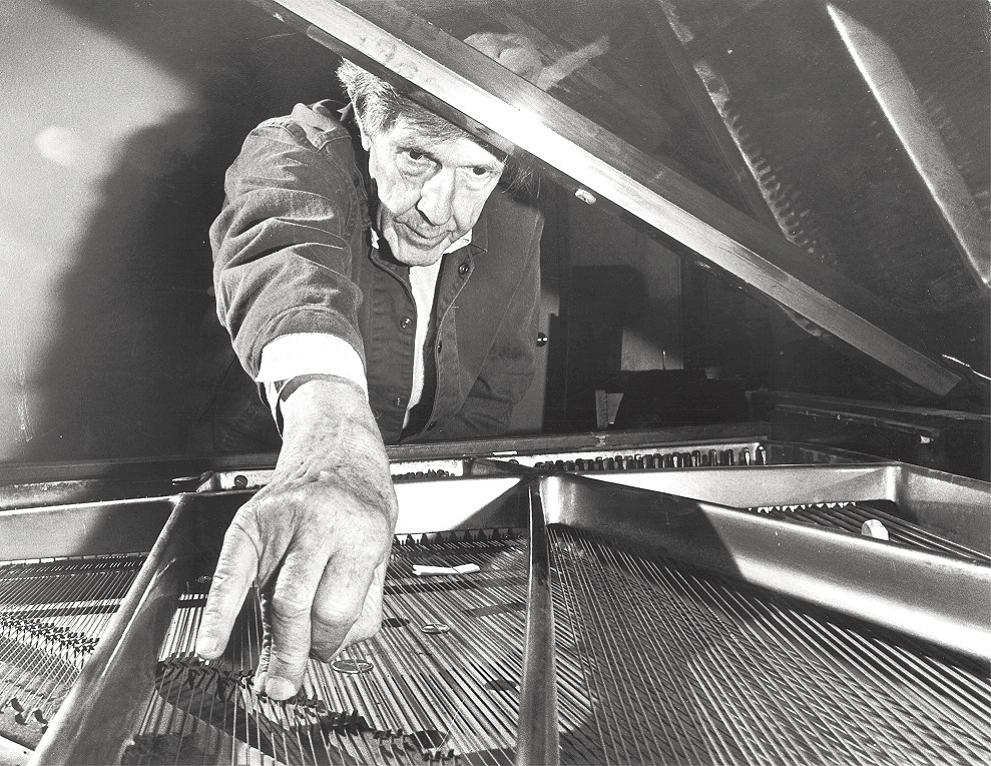 August 24 – October 13, 2012
Curated by Jade Dellinger
Opening and Reception: August 24, 6 – 8 pm
Gallery Talk: A conversation with Jade Dellinger and Laura Kuhn, Executive Director of the John Cage Trust, 7 pm
Entertainment:    "Sonic Combine", featuring Kat Epple, Lauren Getford and Laurence Voytek, will perform at the opening reception.  Inspired by the collaborative spirit of John Cage, Robert Rauschenberg and Merce Cunningham, the group formed to explore the possibilities of alternative music.
Things Not Seen Before: A Tribute to John Cage (with 33-1/3 – Performed by Audience) is a visual art exhibition and interactive installation in celebration of the 2012 birth centenary of one of the most significant and influential creative thinkers of the 20th Century.  An intimate friend and collaborator of Bob Rauschenberg's, the composer once noted: "I am very happy to have known Marcel Duchamp and to be living still in the time of Rauschenberg…  I am not interested in the names of movements but rather in seeing and making things not seen before."  Marking a decade since originating his survey The Visual Art of John Cage in Ft. Myers in 2002, the Bob Rauschenberg Gallery at Edison State College now revisits the monumental impact and continuing legacy of John Cage.
Consisting largely of material not previously exhibited (much created specifically for this project), Things Not Seen Before includes John Cage-related or –inspired works by colleagues and collaborators including Fluxus pioneers Nam June Paik, Philip Corner, Giuseppe Chiari, Yoko Ono and Milan Knížák.  Numerous others who closely followed or befriended and were profoundly influenced by Cage – like Performance artist Laurie Anderson, ex-Talking Heads front man David Byrne, The Art Guys, Lee Ranaldo from Sonic Youth, Christina Kubisch, Andrew Deutsch, Stephen Vitiello and winner of the Golden Lion for Best Artist in the 2011 Venice Biennale, Christian Marclay are also featured.  A number of prominent regional artists like sculptor Joe Griffith, Tony Wong Palms and Theo Wujcik (who met and photographed Cage in Florida in the 1980's) have contributed new works.  Plus, several original pieces (mesostic manuscripts, early lithographs, a monotype, "Busoni Chart for HPSCHD"/score and plexigram) all created by John Cage are positioned on gallery walls with the artist's own (rather unorthodox) installation method derived through chance operations. 
Perhaps best known for his controversial composition 4'33" (1952) which was divided into three timed movements (totaling four minutes and thirty-three seconds) without playing a single musical note, John Cage created his so-called "silent piece" while adamantly asserting that there is "no such thing as silence."  The avant-garde composer pioneered electro-acoustic music, the non-standard use of musical instruments, and created his "prepared piano" by inserting found objects between its strings to alter and expand its sound.  He studied Eastern Philosophy and Zen Buddhism, and frequently employed chance operations as a compositional tool – with the aid of the ancient Chinese Book of Changes (the I-Ching) and the tossing of coins.   
Central to the exhibition at Edison State College (and through the generosity of the Tampa Museum of Art), Things Not Seen Before features a special interactive installation of John Cage's 33-1/3 – Performed by Audience.  Conceived in 1969 as a visitor participation piece, Cage's 33-1/3 encourages gallery-goers to engage freely with a room full of record players and stacks of vinyl LPs.  However, as the composer never specified LP titles for use in the installation, a prominent group "guest curators" have been invited to submit Top 10 picks to fill record bins in the Bob Rauschenberg Gallery – including Iggy Pop, Mark Mothersbaugh/Devo, Richie Ramone/The Ramones, Pauline Oliveros, Meredith Monk, John Baldessari, William Wegman, Graham Nash, Bryan Ferry/Roxy Music, Joan La Barbara, David Harrington/Kronos Quartet, Vito Acconci, Matthew Barney, Jim Rosenquist, Ed Ruscha and others. 
Each "guest curator" for John Cage's 33-1/3 – Performed by Audience was given the freedom to determine their own rationale and approach for making selections.  Many included records to which they had contributed, while others (like Mike Kelley, The Residents and Alex James from Blur) were resolute about not including their own recordings.  Some approached the challenge with the potential blend of music and voice foremost in mind, like David Byrne in committing entirely to obscure "spoken word" LPs (from Alfred Wolfsohn's Experiments in the Extension of The Human Vocal Range on Folkways Records to the recordings of mentally ill Frank Zappa protégé Wild Man Fischer and the poet T.S. Eliot).  Blixa Bargeld of the infamous German industrial noise band Einstürzende Neubauten reverently dedicated his entire Top 10 to a wide array of rare John Cage records, while Yoko Ono focused wholly her own recordings (and those of her late husband John Lennon and son Sean Ono Lennon).  Jack White/The White Stripes provided special pressings from his Third Man Records label, and Emil Schult from the Teutonic electronic music pioneers Kraftwerk contributed vintage vinyl from his personal record collection.
As artist/participant Lee Ranaldo recently recalled: "I remember John talking about how he didn't like to listen to a record more than once. What was the point? If one gave oneself over to the experience the first time, then why repeat? He didn't really care for the idea of music as 'fixed in time' on a black platter. He said he'd rather open the window and listen to the trucks rolling by, or whatever else was coming in -the constantly changing music of NOW rather than a packaged simulacra of 'then'. Of course that's the real idea behind 4'33″ – it's not a silent piece at all – there is always sound!  Those comments have long stayed with me, in spite of the fact that I love both making records and playing records – often the same ones over and over again."
The duration of 33-1/3 is indeterminate.  When first performed at the University of California/Davis, the audience interacted with John Cage's record installation for nearly four hours.  However, 33-1/3 – Performed by Audience at the Bob Rauschenberg Gallery is accessible on a daily basis – during regular gallery hours (and for the occasional special event).  As Cage would have expected, the work remains "silent" when there are no visitors to interact with it – and cacophonous (or perhaps most musical) when fully occupied by audience-performers.  As John Cage famously surmised: "Until I die there will be sounds. And they will continue following my death. One need not fear about the future of music."
Jade Dellinger, Guest Curator
John Cage's 33 1/3 © 1969 by Henmar Press Inc. Used by permission of C.F. Peters Corporation.  All rights reserved.
For more about the John Cage Centennial celebrations worldwide, please visit the John Cage Trust at Bard College at www.JohnCage.org.