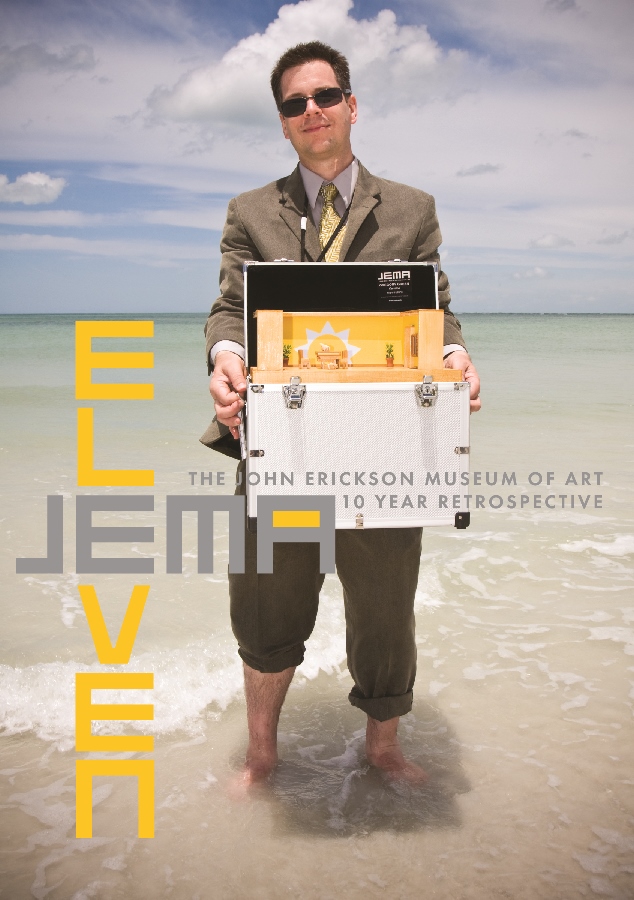 ELEVEN: The John Erickson Museum of Art (JEMA) 10-Year Retrospective
May 9 – July 25, 2014
Opening: May 9, 2014
Pre-Opening lecture by JEMA founder, curator and artist Sean Miller (and discussion with Gregory Green, Jack Massing of The Art Guys, Bethany Taylor and other JEMA artists)
6pm, Rush Library Auditorium, J-Building
Reception to follow: 7-9pm, Bob Rauschenberg Gallery
Chronicling a decade of highly innovative art projects and often unconventional installations by invited artists, ELEVEN: The John Erickson Museum of Art (JEMA) 10-Year Retrospective will mark its final day at the Bob Rauschenberg Gallery (and elucidate the enigmatic/numeric exhibition title) by closing to the public on JEMA's ELEVENth anniversary.
Founded on July 25, 2003 by artist/curator Sean Miller with an "unauthorized" Grand Opening in the lobby of the Seattle Art Museum, The John Erickson Museum of Art was officially inaugurated with a guerilla-style art action. Befitting its diminutive architectural scale (each JEMA gallery is only slightly larger than a shoebox) – the entire celebratory event was clocked from start to finish at two-minutes in length. Conceived in the tradition of Marcel Duchamp's "Boite en Valise" (his mini-retrospective in a suitcase) and Robert Filliou's "Galerie Légitime" (an exhibition space in the artist's hat), the portable JEMA galleries (most now safely housed in 16"x12"x9" aluminum carrying cases) have played host to site-specific and solo projects by a wide-array of well-established and emerging international artists.
While ELEVEN: The John Erickson Museum of Art (JEMA) 10-Year Retrospective at the Bob Rauschenberg Gallery will present more than twenty "archived" JEMA galleries – including those by Gregory Green, Arnold Mesches, Yoko Ono, Bethany Taylor, Sergio Vega and others, it will also premiere new works (or some not previously shown in the United States) by Jim Drain, Oliver Herring, Chip Lord, Tea Mäkipää, Andrea Robbins & Max Becher, Fluxus pioneer Ben Patterson and The Art Guys from Houston. This first-ever survey of artworks commissioned by the John Erickson Museum of Art, Elevenwill represent the largest gathering to date of artist/curator Sean Miller's "location variable" JEMA galleries and be accompanied by his Next Chapter Spaces, JEMA Annex, JEMA Video Lounge, the Art Museum Dust Collection and new works from the JEMA Artist Dream Registry.
According to Bob Rauschenberg Gallery Director Jade Dellinger: "We are honored to be collaborating with our friends at the Samuel P. Harn Museum of Art and to have the opportunity to premiere this ambitious joint-venture in Fort Myers before travelling ELEVEN: The John Erickson Museum of Art (JEMA) 10-Year Retrospective to the University of Florida in Gainesville this Fall."
The founder and director of JEMA, Sean Miller is a Florida-based artist/curator and an Assistant Professor at University of Florida with the School of Art and Art History and views the John Erickson Museum of Art as a generative art work.
As Kerry Oliver-Smith, Curator of Contemporary Art at the Samuel P. Harn Museum of Art/University of Florida views it, "Sean Miller's remarkable JEMA project upends conventional ideas of the museum, artist and curator. He reinvents the museum by creating a series of miniature and mobile museums that occupy new realms of critical and literal space from site-specific sculpture and installation space to performance and web-based project. Each museum features a different artist and from there the project expands."
Critically-acclaimed, Sean Miller's work has received international coverage in broadcast, TV, film and print including: The New York Times, CBS News, The Nation, Baltimore Sun, LA Weekly, Seattle Times, Seattle Post-Intelligencer, Atlanta Journal-Constitution, Miami New Times, Irish Times, Sculpture Magazine, Art Papers, New Art Examiner, ArtStar (episode "Six in the City"/Reality Television), Gallery HD, Dish Network (2008), Oddities (Season 2, episode "The Horaffe")Science Channel,and the documentary film How to Start Your Own Country, directed by Jody Shapiro.
Gallery exhibitions are sponsored in part by the National Endowment for the Arts, The State of Florida, Department of Cultural Affairs and the Florida Arts Council. Marketing of The John Erickson Museum of Art (JEMA) 10-Year Retrospectiveis generously underwritten by Southwest Florida Community Foundation.