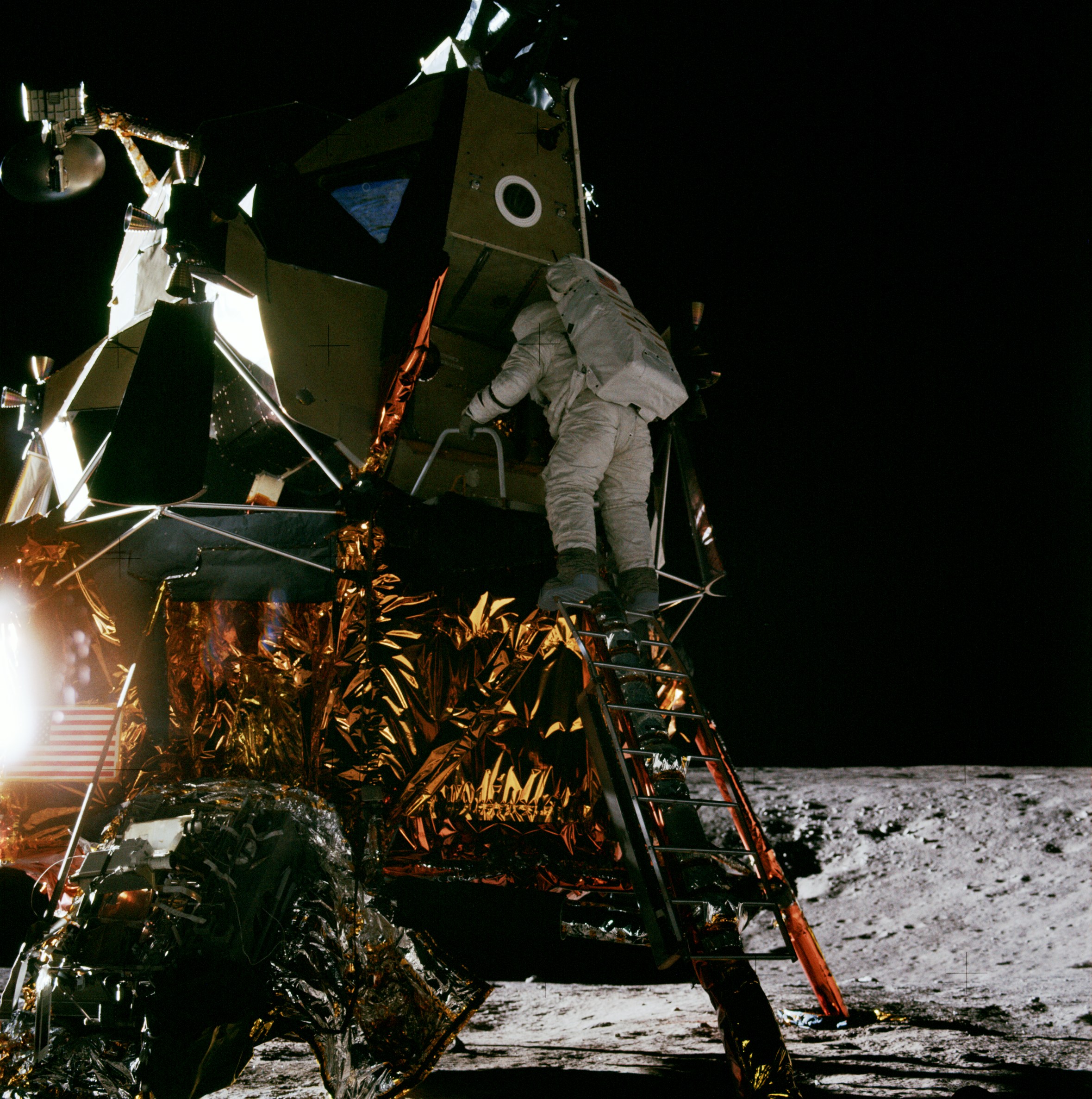 The Moon Museum (1969): Apollo XII's Secret Art Mission
August 22 – September 27, 2014
Opening and Reception: August 22, 6 – 8pm
In celebration of the 10-year anniversary of the renaming of the Gallery of Fine Art at Florida SouthWestern State College (formerly Edison State College), our Fall programming will focus exclusively on the enduring legacy and profound global (even "extraterrestrial") impact of our namesake artist Bob Rauschenberg.  From October 22 through December 17, the Bob Rauschenberg Gallery will premiere RAUSCHENBERG: China/America Mix – the first solo exhibition of the artist's work at the Gallery since his death in 2008.  However, we are also delighted to announce that the first ever "Space Art" object will be landing at FSW in the meantime with our installation: The Moon Museum (1969): Apollo XII's Secret Art Mission (August 22 – September 27, 2014).
The Moon Museum (1969): Apollo XII's Secret Art Mission will present the little-known Rauschenberg / Experiments in Art & Technology (E.A.T.) project that clandestinely sent and permanently sited original artwork by six artists on the lunar surface in 1969.  A postage stamp-sized, paper-thin multiple, the Moon Museum was the brainchild of New York sculptor Forrest "Frosty" Myers.  A group of the most significant artists of the time including John Chamberlain, David Novros, Claes Oldenburg, Andy Warhol and Bob Rauschenberg joined Myers in contributing individual drawings that engineers at Bell Laboratories transferred (using a then cutting-edge photo-reduction technique developed for micro-circuitry) onto a handful of identical ceramic wafers.  The first-ever "Space Art" object, one copy of the Moon Museum multiple was then surreptitiously attached to the Apollo XII lunar landing LEM 6, and has now, consequently, resided on the surface of the Moon for the last forty-five years.
As Rauschenberg's artist-friend Forrest Myers has described it, "Darwinian evolution seemed to happen in fossil time, but seeing Man leave the Earth and step foot on the Moon was both instant and epic."  Myers was inspired by the success of Apollo XI to propose sending art to the Moon – his art and the art of those artists he most admired.  Wanting nothing more than to put something soulful up where typically NASA had left detritus and hardware behind, nearly a half century later, The Moon Museum (with drawings by Rauschenberg, Chamberlain, Oldenburg, Novros, Myers and Warhol) is still a compelling art object and continues to resonate profoundly in the imagination.
Following the triumphant return of the Moon Museum from its first blockbuster presentation (an exhibition co-organized by the Bob Rauschenberg Gallery with support from the U.S. Department of State and National Geographic magazine) at the National Gallery of Art in Tbilisi, Georgia (former Soviet Union) last November, the Bob Rauschenberg Gallery at FSW will allow Southwest Florida visitors the rare opportunity to view in-person one of the few original Moon Museum (1969) ceramic tile multiples (along with vintage NASA press photographs, film shot by Apollo XII astronauts and related mission-flown artifacts).
"'Moon Museum' Exhibit Sheds New Insight on the Rauschenberg Legacy" in Art Districts by Tom Hall (August/September 2014)
"Robert Rauschenberg's top secret moon mission" in Florida Weekly by Nancy Stetson (August 20, 2014)
"A trip the The Moon" in Fort Myers Beach Observer (August 20, 2014)
"Moon 'museum' masterpieces: Chip-sized gallery smuggled on Apollo" in Naples Daily News by Harriet Howard Heithaus (August 21, 2014)
"Exhibit showcases museum sent to Moon" in Gulf Coasting by Charles Runnells (August 29, 2014)