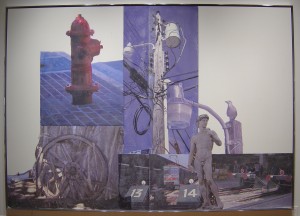 Bob Rauschenberg
June 4 – July 11, 2004
Edison College is pleased to announce that the Gallery of Fine Art at the Lee Campus will be named "The Bob Rauschenberg Gallery" at a dedication ceremony scheduled for Friday, June 4, 2004.  Coinciding with the dedication ceremony, a new exhibit of Mr. Rauschenberg's work, "Scenarios," will be on display in the Gallery from June 4 to July 11, 2004.
World acclaimed artist Robert Rauschenberg has been a friend of Edison College since 1980 when his first exhibit took place at the Gallery of Fine Art.  Subsequently, the gallery has hosted eight exhibits of his works and an additional two exhibits have taken place in the Barbara B. Mann Performing Arts Hall.  With the June 4 exhibit and another exhibit planned for January of 2005 the remarkable total of 12 exhibitions have taken place at Edison College over a 25-year span.  Mr. Rauschenberg's generosity led to the establishment of an endowed fund to benefit the Gallery in March 2000.  The Edison College Foundation created the fund from the proceeds of the sale of limited edition prints and posters of Rauschenberg's work.
Rauschenberg has created a new limited edition print entitled "Restoration," and will donate signed prints to the Gallery of Fine Art for purchase through the Foundation at the June 4 ceremony.   The artist's generous gifts, along with State matching funds, have resulted in an endowed fund at a level which meets the College's guidelines for naming its facilities.
The reception will be held in the lobby of the Barbara B. Mann Performing Arts Hall beginning at 6:30 p.m., with the exhibition of "Scenarios" and Gallery Open House scheduled for 6:30 p.m. – 9:00 p.m.  The dedication ceremony is planned for 8:00 p.m.