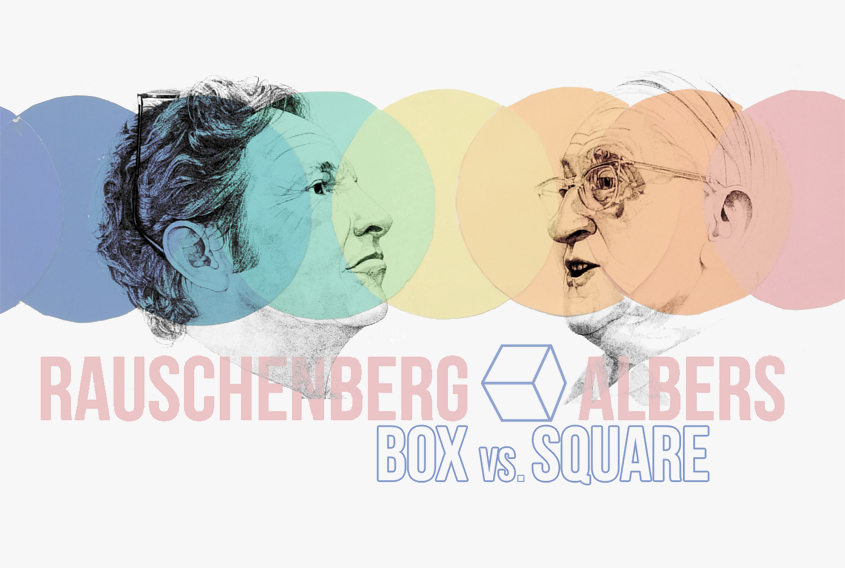 February 26 – May 14, 2016

Friday, February 26, 2016
Opening Reception: 6-8pm
With performances by internationally-acclaimed electro-acoustic violist Martha Mooke and Sonic Combine
Florida SouthWestern State College is delighted to announce RAUSCHENBERG & ALBERS: Box Vs. Square at the Bob Rauschenberg Gallery (located on FSW's Lee County/Thomas Edison campus). Opening with a public reception and performances by internationally-acclaimed electro-acoustic violist Martha Mooke and Sonic Combine on Friday, February 26th, RAUSCHENBERG & ALBERS: Box Vs. Square will be the first in-depth investigation anywhere of the once student-teacher relationship between these two great modern masters.
Robert Rauschenberg famously spoke of Josef Albers as his most important teacher, and (laughingly) acknowledged that Albers surely considered Rauschenberg his poorest student.  Of course, much celebrated for his own artistic production, Josef Albers' pioneering research into the interaction of color (while teaching at the Bauhaus, Black Mountain College and later at Yale University) and legacy as an educator are at least as significant as the paintings and prints he created.  His teachings (and related publications) are still at the core of college art curricula and the subject of courses in every serious teaching institution (including Florida SouthWestern State College – where this exhibition will transform the Bob Rauschenberg Gallery into both an exhibition space and a classroom with hands-on workshops and lectures in conjunction with regularly-scheduled "Color Theory" course offerings during the Spring Semester.)
Widely-acknowledged as one of the most important artists of the 20th Century, Bob Rauschenberg is credited with pioneering the transition from European modernism to American pop art.  His influence still looms large around the globe and his work has been exhibited and collected by every major art museum in the world. Examined for the first time within the framework of the rigid "Homage to the Square" and "Interaction of Color" series of his most influential Black Mountain College instructor Josef Albers, RAUSCHENBERG & ALBERS: Box V. Square at the Bob Rauschenberg Gallery – is a curated exhibition that reconsiders the playful cardboard box works (his "Cardboards" and "Cardbirds") of the internationally-acclaimed artist and Lee County, Florida resident Bob Rauschenberg.
As an artist who described himself as working in the 'Gap between Art and Life' and who often found inspiration and component parts for his paintings and 'Combines' by walking around his Lower East Side/New York City neighborhood block, Rauschenberg turned to cardboard boxes as a subject matter and raw/source material after unloading his belongings upon arriving permanently to Florida in 1970.  According to Bob Rauschenberg Gallery Director Jade Dellinger: "Trading the detritus of city life for the sunshine and sand of Captiva Island, the first series of works the artist made locally were the result and direct product of the abundant boxes used to transport his life and art from New York to his new beach-side home.  So, it is particularly fitting that these works be exhibited more than four decades later in the Southwest Florida context that inspired their creation."
More about us: The Bob Rauschenberg Gallery was founded as The Gallery of Fine Art in 1979 on the Lee County campus of Florida SouthWestern State College/FSW (then Edison Community College). On June 4th 2004, the Gallery of Fine Art was renamed the Bob Rauschenberg Gallery to honor and commemorate our long time association and friendship with the artist. Over more than three decades until his death, the Gallery worked closely with Rauschenberg to present world premiere exhibitions including multiple installations of the ¼ Mile or Two Furlong Piece. The artist insisted on naming the space the Bob Rauschenberg Gallery (versus the "Robert Rauschenberg Gallery") as it was consistent with the intimate, informal relationship he maintained with both our local Southwest Florida community and FSW.
This event is open to the public, free of charge. 
Gallery Hours:  Monday – Friday 10 am – 4 pm and Saturday 11 am – 3 pm
Closed Sundays and Holidays (including FSW's spring break from March 7 – 13)
This project is sponsored in part by
the Department of State, Division of Cultural Affairs,
the Florida Council of Arts and Culture and the State of Florida
With additional support from Chico's International
"Saff and Voytek share rich personal stories about Bob Rauschenberg with ArtSPEAK audience" from ArtSWFL.com by Tom Hall (April 30, 2016)
"Artist's Talk On Rauschenberg Collaboration" in The River Weekly News (April 29, 2016)
"Donald Saff and Lawrence Voytek to reminisce about collaborations with Bob Rauschenberg on April 30" from ArtSWFL.com by Tom Hall (April 27, 2016)
"April Highlights" in Gulfshore Life by Cayla Childs (April 2016)
"'RAUSCHENBERG & ALBERS: Box Vs. Square' exhibit opens at Rauschenberg Gallery" in Happenings (April 2016)
"Exhibit focusing on student-teacher relationship between Bob Rauschenberg and Josef Albers on view at FSW" from ArtSWFL.com by Tom Hall (March 3, 2016)
"'RAUSCHENBERG & ALBERS: Box Vs. Square' exhibit opens at Rauschenberg Gallery" in Happenings (March 2016)
"'Rauschenberg & Albers' opens with ethereal music by electro-acoustic violinist Martha Mooke" from ArtSWFL.com by Tom Hall (February 27, 2016)
"Rauschenberg and Albers Exhibit at Florida SouthWestern State College" in the Island Sun (February 19, 2016)
"Art exhibit to feature Rauschenberg's art created after arriving on Captiva" in the Sanibel Captiva Islander by Meghan McCoy (February 17, 2016)
"'RAUSCHENBERG & ALBERS: Box Vs. Square' comes to FSW" from Florida Weekly (February 10, 2016)
"Rauschenberg Exhibit Focuses On Student-Teacher Relationship" from The River Weekly by Tom Hall (February 5, 2016)
"More about legendary artist and art instructor Josef Albers in advance of 'Rauschenberg & Albers' exhibition" from ArtSWFL.com by Tom Hall (February 3, 2016)
"Remembering Josef Albers in anticipation of 'RAUSCHENBERG & ALBERS: Box Vs. Square'" from ArtSWFL.com by Tom Hall (February 2, 2016)
"New exhibit at Bob Rauschenberg Gallery focuses on student-teacher relationship between namesake and Josef Albers" from ArtSWFL.com by Tom Hall (January 27, 2016)
"Bob Rauschenberg Gallery at FSW Awarded $25,000 State Grant" in The River Weekly News (September 4, 2015)
"Grant will bring Rauschenberg's early Florida work to gallery" in Florida Weekly (September 2, 2015)
"Bob Rauschenberg Gallery at FSW awarded $25,000 state grant" from South Fort Myers Community Lifestyles (September 2015)
"Florida SouthWestern Receives Grant for Arts in Education" from Naples Herald by Amanda Jackson (August 25, 2015)
"Bob Rauschenberg Gallery at FSW Awarded $25,000 State Grant" from Bonita Springs Area Chamber of Commerce (August 24, 2015)
"Bob Rauschenberg Gallery at FSW Awarded $25,000 State Grant" from Greater Fort Myers Chamber of Commerce (August 24, 2015)