ferðalag (a journey or voyage):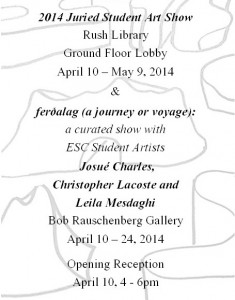 a curated show with
ESC Student Artists
Josué Charles, Christopher Lacoste and Leila Mesdaghi
Bob Rauschenberg Gallery
April 10 – 24, 2014
2014 Juried Student Art Show
Rush Library Ground Floor Lobby
April 10 – May 9, 2014
We are very pleased to have John Loscuito, the newly appointed Director of Florida Gulf Coast University's Art Gallery, serving as our juror for the 2014 Juried Student Art Show.  He arrived in January of 2014 from Milwaukee, Wisconsin where he worked with a number of arts institutions including the University of Wisconsin – Milwaukee, Milwaukee Institute of Art and Design, Theatre X and the Haggerty Museum at Marquette University. As an artist, teacher, collections manager and curator he has exhibited in and organized national and international exhibitions. Notable exhibitions he has traveled with include Wifredo Lam in North America and Keith Haring: the Milwaukee Mural. He has curated diverse exhibitions with a range of media and time periods from medieval manuscripts to contemporary painting and photography.  John Loscuito received his Masters of Fine Arts degree from the University of Wisconsin – Milwaukee and his Masters of Business Administration degree from Marquette University.
---
YOKO ONO IMAGINE PEACE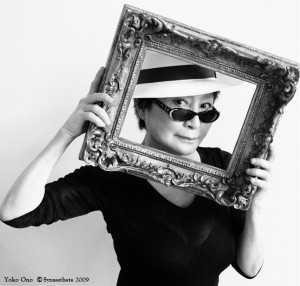 January 24 – March 29, 2014
Opening: January 24, 2014
Lecture by Co-Curator Kevin Concannon: 6 pm,
Rush Auditorium, J-Building
Reception: 7 – 9 pm, Bob Rauschenberg Gallery
Among the earliest of artists working in the genre of Conceptual Art, Yoko Ono has consistently investigated the theme of peace and has invited those who interact with the work to play an active role in their creation and existence.  The exhibition YOKO ONO IMAGINE PEACE presents several of the artist's most current works, re-imagined anew for the installation at the Bob Rauschenberg Gallery, Edison State College.
Four recent works, WISH TREE (1996/2014); IMAGINE PEACE MAPS (2003/2014); ONOCHORD (2003/2014); and IMAGINE PEACE TOWER (2006/2014) offer gallery visitors an opportunity to participate individually and collectively with the artist in the realization of the work.  Consider the world with fresh eyes as you stamp the phrase IMAGINE PEACE on the map location of your choice.  Attach your handwritten wish for peace to the WISH TREE, and this wish will be delivered to the IMAGINE PEACE TOWER in Reykjavik, Iceland, where it will shine on eternally, joining more than a million others previously collected.  You are also welcomed to beam the message "I Love You" to one and all using the ONOCHORD flashlights.  You may take an ONOCHORD flashlight and an IMAGINE PEACE button as a gift to you from the artist and carry these timeless messages out into the world.  As Yoko Ono has often observed: "A dream you dream alone is just a dream, but a dream we dream together is reality."
PASSAGES OF LIGHT, a video that chronicles the conceptualization and construction of the IMAGINE PEACE TOWER, and reinterpretations of the works PARTS OF A LIGHTHOUSE and MEND PIECE, are also featured in the exhibition.  PLAY IT BY TRUST, a monochrome chessboard and all white-painted lawn-sized game pieces, invites visitors to experience a playful metaphor for the futility and confusion of all types of conflict – where differentiation between opposing sides is difficult if not impossible to distinguish, and the commonality of opponents is exposed.
The exhibition YOKO ONO IMAGINE PEACE was curated by Kevin Concannon and John Noga with the support and involvement of the artist.  The installation at the Bob Rauschenberg Gallery was configured in direct collaboration with Yoko Ono to reflect the Gallery's mission and its role as a learning laboratory on the campus of Edison State College in Fort Myers, Florida.
More about the Gallery: The Bob Rauschenberg Gallery was founded as The Gallery of Fine Art in 1979 on the Lee County campus of Edison State College (then Edison Community College).  On June 4th 2004 the Gallery of Fine Art was renamed the Bob Rauschenberg Gallery, to honor and commemorate our long time association and friendship with the artist.  Over more than three decades until his death, the Gallery worked closely with Rauschenberg to present world premiere exhibitions including multiple installations of the ¼ Mile or Two Furlong Piece.  The artist insisted on naming the space the Bob Rauschenberg Gallery (versus the "Robert Rauschenberg Gallery") as it was consistent with the intimate, informal relationship he maintained with both our local Southwest Florida community and Edison State College.
Gallery exhibitions are sponsored in part by the National Endowment for the Arts, The State of Florida, Department of Cultural Affairs and the Florida Arts Council.  YOKO ONO IMAGINE PEACE is generously underwritten by: Trevett Capital Partners; Steven Hubbard and Carolann Swanson; Barbara Yeomans; and the Bob Rauschenberg Gallery Docent Helping Hand Fund.