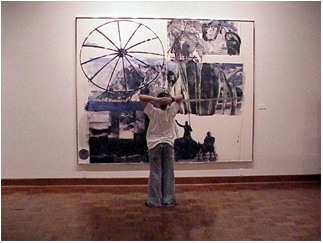 The Gallery of Fine Art was founded in 1979 on the Lee County campus of what was at the time Edison Community College, now Florida SouthWestern State College.  The Gallery has as its primary function the exhibition, presentation and interpretation of modern and contemporary international art in all media.
On June 4th 2004 the Gallery of Fine Art was renamed the Bob Rauschenberg Gallery, commemorating our long time association and friendship with the artist.  Over more than three decades until his death, the Gallery worked with Rauschenberg to present world premiere exhibitions including multiple installations of the ¼ Mile or Two Furlong Piece.
Gallery Mission Statement:
To engage and provide an active link to the community through art, cultural events and community partnerships.
To provide cultural leadership in Southwest Florida by maintaining a high standard of quality and by offering exhibitions with a wide variety of aesthetic experiences and not otherwise available to area residents and visitors.
To provide interpretive/educational programs which facilitate the appreciation of Gallery exhibitions, to benefit students of Florida SouthWestern State College (who vary widely in age, background, and educational goals), students of public and private schools, and the general public within the College's service area.