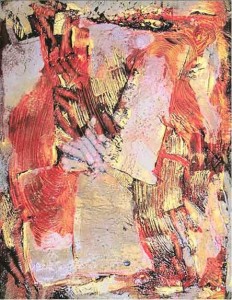 Moving into Color
Paintings by Darby Bannard
January 20 – February 25, 2006
The Bob Rauschenberg Gallery at Edison College is pleased to present the work of internationally acclaimed artist Darby Bannard. Bannard's illustrious career began in the late 50's after leaving Princeton where his education focused on philosophy. At that time Princeton didn't have a painting department and those few interested in the arts gathered in the architecture department to paint. A friend of Bannard's and one of the early "Princeton painters" was Frank Stella.
Within a decade of graduating from Princeton Bannard was included in a groundbreaking exhibit that opened at theLos AngelesCountyMuseum in 1964. That exhibit, "Post Painterly Abstraction" was curated by Clement Greenberg and traveled to the Walker Art Center and The Art Gallery of Ontario, Toronto. From that point on Bannard was part of the Post Painterly Abstraction lexicon. Bannard's work was included in exhibits with Helen Frankenthaler, Kenneth Noland, Larry Poons, Morris Louis, Mark Rothko, Jules Olitski, and Frank Stella to mention a few of the artists that were part of this amazing era in American art.
Colorfield Painting or Post Painterly Abstraction is a phrase first used by the critic Clement Greenberg to distinguish the abstract painting of the 1960s from works associated with the abstract expressionist movement of the 1950s. The work of the abstract expressionists involved personal emotionalism and had a painterly quality. The artists working in the various styles of post-painterly abstraction moved toward a more impersonal and intellectual aesthetic. In their works they dealt with what they considered to be the fundamental formal elements of abstract painting: pure color, two-dimensional space, large format, and shaped canvases. Among the specific trends encompassed by the term post-painterly abstraction are minimalism and color-field painting.
Following the LA County Museum show, through the 60's and 70's and 80's, other important shows followed. Some of the venues for those exhibits included The Museum of Modern Art, Whitney Museum of American Art, Detroit Institute of Art, Museum of Fine Arts in Boston, Cleveland Museum of Art, Philadelphia Museum of Art and the Houston Museum of Art to list a very few.
Bannard has received numerous prestigious awards; among them was the inclusion in the American Artists portion of the 1971 Venice Biennale. Some of the others included awards from the National Endowment for the Arts the National Foundation of the Arts and the John Simon Guggenheim Memorial Foundation. A renowned art writer Bannards articles have been included in Arts Magazine, Artforum, Art in America, Art International, USA Today and the New York Times to list a few.
In the late 80's Bannard moved to Florida to take on the challenge of leading the painting department at the University of Miami. He continues in that role.
Bannard's work is held in some of the most important public collections in America, including: the Guggenheim Museum, Museum of Modern Art, Metropolitan Museum of Art, Whitney Museum, Lowe Art Museum and the Dallas Museum, to list just a few.
---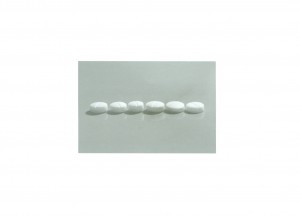 Jud Nelson: Hyper Realistic Sculpture
March 10 – April 22, 2006
Since the early 70's Jud Nelson has been making some of the most impeccably crafted sculpture inAmerica. Dazzling in their technical accomplishment, Nelson's carved objects reach across time in his use of traditional artistic methods. His exacting replicas are life-size observations of the most common of objects; corks, aspirin, Ivory soap, Cheerios, fishing sinkers. His use of serial repetition of subject matter gives each element a completely unique presence, while marking it as part of a greater multiplicity.
Nelson has also worked on some high profile commissions that brought him international acclaim. Between 1982 and 1984 Nelson created, for the Gerald R. Ford Museum, a piece titled "Man in Space." Cast in bronze the sculpture depicts an astronaut's space walk (EVAing a NASA shuttle), and was heralded as a symbol of the future and the first major art work depicting weightlessness. In 1986 he was commissioned by the United Sates Senate to complete a bust, in marble, of Vice President Walter F. Mondale. Mrs. Mondale and Martin Friedman Director of the Walker Art Center in Minneapolis worked together to select Nelson for the commission. In both cases, Man in Space and Vice President Mondale, the work is more precise, literally, that one can imagine – they are exacting likeness consistent with Nelson's obsession with observation.
Jud Nelson was born inPortland, Oregon in 1943. He received a BA from Bethel College in 1966, and in 1968 a MFA from the University of Minnesota, both in Minneapolis. His work is held in numerous public collections including the Solomon R. Guggenheim Museum in New York, the Walker Art Center in Minneapolis, the Gerald R Ford Museum, Grand Rapids, MI, and the United States Capitol, Washington D.C.
There are more than 40 pieces of work in this exhibit that spans 30 years of Nelson's career.
---
Annual Student Art Show
April 27 – May 12, 2005
Features work created by Edison College students. Awards will be presented in the categories of Photography, Design, Ceramics, Drawing and Painting.
---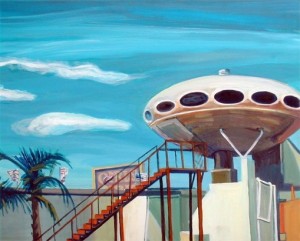 Karen J. Stinnett
June 2 – July 8, 2006
Karen Stinnett received her BFA fromWestern Carolina University, then studied painting and printmaking at the University of Georgia. She received her MFA in painting from Cranbrook Academy of Art, Bloomfield Hills, Michigan. Karen's work has received numerous awards including Best of Show in Watercolor: Southeast, Clearwater, as well as first prizes in the American National Miniature Show, and the Westmoreland Nationals. In 1995 Karen and her work were featured in the prestigious magazine "Watercolor." Karen's work is held in numerous public, private and corporate collections.
Primarily working in watercolors and oils, Stinnett explores America's urban and rural landscapes with a unique vision. Using an often abstract perspective, anchored in the interaction of light with places and things, her imagery is honest, direct and often hauntingly familiar. Based on her travels, Stinnett started a "States" series 2 years ago with a number of those pieces being part of the 50 works on display.
---
Arts for ACT Preview Exhibit
July 20 – August 17, 2006
This annual favorite features the artwork of local and national artists that have been donated for auction to benefit ACT, INC. The preview exhibit includes work by national artists such as Rauschenberg, Pottorf, and Rosenquist as well as dozens of local favorites.
---

Strictly Black and White
Diane Tuft and Howard Rubenstein
September 1 – October 7, 2006
This exhibit features the work of photographers Diane Tuft and Howard Rubenstein. Included in the show are some 50 brilliant black and white photographs with an underlying theme that takes us on a "natural" journey.
The exhibition features 30 prints representing several separate series by Diane Tuft. Distillations is a series comprised of photographs of snow and ice formations in Colorado; Tunisian Fantasy is a reflection upon the mutable and shifting forms and textures of sand dunes; Iceland brings recent images of glacial ice forms, and there are other images from Southwest America.
All of the work reflects Tuft's continuing interest in the ephemeral qualities of nature. The fleeting, the temporary, the transient and the impermanent all hold a special attraction. She prints her images using a platinum solution painted onto the surface of Arches palatine paper. This process creates a richer tonal range than the more common gelatin silver print.
While a student at the University of Connecticut, Diane Tuft developed a keen interest in microscopic vision, the forces of natural patterning and the scientific representation of the natural world. She subsequently studied photography at The New School of Social Research, The International Center of Photography and with photographer, Ken Robbins; gradually acquiring the technical knowledge and skills of truly fine art photographic printing processes.
Tuft's images have been exhibited at the Hollis Taggart Gallery, New York, the Guild Hall Museum and at Southampton College, New York. Diane Tuft studied Mathematics at the University of Connecticut, Storrs and received an MFA from Pratt Institute in Brooklyn, New York.
The work of Howard Rubenstein includes 20 luscious landscapes taken by Rubenstein during a hike to a sacred spot of Navajo land, called Antelope Canyon, in Northern Arizona, in the spring of 1997.
Rubenstein's images were captured from undulating rock surfaces deep within the canyon. As a photographer, Rubenstein seeks to heighten the art of
photography by exploring the subtleties and sensuality of black-and-white.
Rubenstein, who studied with preeminent photographer and printer George Tice, developed a luxurious and soothing light that submerges itself in grays and distills the emotional quality of secrecy and escape in black-and-white tones. Rubenstein emulates the black-and-white photographic art of Annie Liebowitz and Richard Avedon, and readily acknowledges his debt to Ansel Adams, though stresses that his own intentions are more toward sumptuous and subtle abstractions.
This traveling exhibit was organized by Katherine T. Carter and Associates.
http://dianetuft.com/ http://www.rubensteinart.com/
---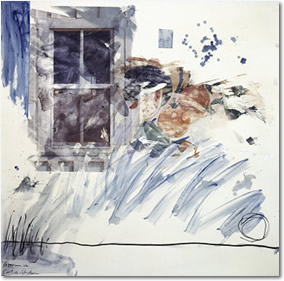 Darryl Pottorf
October 20 – December 2, 2006
The Bob Rauschenberg Gallery is pleased to present the recent work of Darryl Pottorf. Mr. Pottorf, a Captiva resident and former Edison College student, has been working as an artist for more than 20 years. In that time he has developed an international following with exhibitions of his work being shown in numerous USA venues as well as overseas in Switzerland and Germany. Mr. Pottorf worked as an assistant to Robert Rauschenberg from the early 80's until recently and he has collaborated with Mr. Rauschenberg on numerous projects.
A limited edition print was created by Mr. Pottorf exclusively for the Bob Rauschenberg Gallery and will be available at the opening reception.