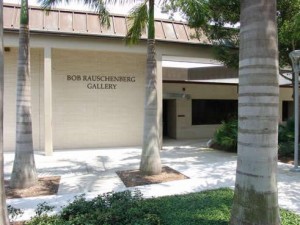 Bob Rauschenberg Gallery
8099 College Pkwy SW
Ft. Myers, FL 33919
[ Map & Directions to the Gallery ]
The Bob Rauschenberg Gallery is located on the Lee County Campus of Edison State College, in the Humanities Hall (Building L), next to the Barbara B. Mann Performing Arts Hall.
The gallery is open to the public and is handicap accessible. There is no charge for admission but donations are accepted. Groups of 20 or more planning to visit the exhibit are asked to call for reservations.
For additional information or to schedule a group visit, please call (239) 489-9313, Monday through Friday, 8:30 a.m. to 4:30 p.m.
As we feature rotating exhibits and are closed between shows, if you are planning on traveling to visit the gallery, we recommend that you call ahead of your trip.
Between exhibits, the gallery is closed, but the offices are open and can be reached at (239) 489-9313.
During an exhibit, gallery hours are:
Monday – Friday: 10 a.m. – 4 p.m.
Saturday: 11 a.m. – 3 p.m.
Closed Sundays and holidays