Keith EDMIER: Artist's Talk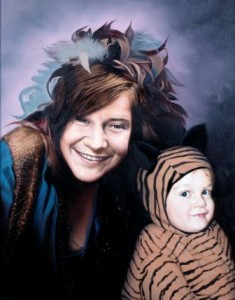 Saturday, August 23, 2014 at 1pm
The Bob Rauschenberg Gallery is pleased to announce an artist's talk by the celebrated New York sculptor Keith Edmier on Saturday afternoon (1pm) in the Rush Auditorium at Florida SouthWestern State College. Speaking candidly for the first-time on his fascination with Pop culture and much reported art collaborations and exhibitions with 1970's icon Farrah Fawcett (who he exhibited with in two-person shows at the Los Angeles County Museum of Art and Andy Warhol Museum in Pittsburgh) and the late, great motorcycle daredevil Evel Knievel (who he worked closely with on their "EK:KE" project at the USF Contemporary Art Museum in Tampa in 1997).
Keith Edmier was born in 1967 on Chicago's South Side. He grew up in the suburb of Tinley Park, Illinois. In 1985 at age 17, Edmier moved to Los Angeles to pursue a career in the film industry creating special make-up effects. His first job was working for Rick Baker on Michael Jackson's "Caption EO" (which was directed by Francis Ford Coppola). He then worked for Chris Walas on David Cronenberg's remake of "The Fly", which won an Academy Award for best make-up in 1986. Edmier briefly attended The California Institute of the Arts/CalArts (studying under the influential artist Mike Kelley), then continued to work in the film business throughout the rest of the 1980's, supervising effects for films including "Bride of Re-Animator", "Barton Fink" for Joel and Ethan Coen, and the television series "Freddy's Nightmares".
In the beginning of 1991, Edmier moved to New York City to work as a fine artist. He had his first solo show in 1993 at the Friedrich Petzel Gallery. He has exhibited extensively since – including shows at the Tate Modern in London; the 2002 Whitney Biennial, Whitney Museum of American Art in New York; San Francisco Museum of Modern Art; and the Museum of Contemporary Art, Chicago. Edmier has had solo exhibitions at the Contemporary Art Museum/Tampa (curated by Bob Rauschenberg Gallery Director Jade Dellinger), the Los Angeles County Museum of Art, the Andy Warhol Museum, and a mid-career survey at the CCS Bard Hessel Museum of Art, New York. He is the recipient of the Louis Comfort Tiffany Foundation 2001 Biennial Award, and his work is in numerous private and public collections including the Walker Art Center, Minneapolis; Hessel Museum of Art/CCS-Bard College, New York; San Francisco Museum of Modern Art; The Denver Art Museum; The Israel Museum, Tele Viv and The Tate Gallery in London.
---
Benjamin Patterson: Born in the State of FLUXus – A Performance/Lecture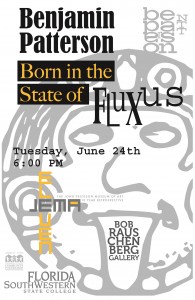 Tuesday, June 24 at 6pm
In conjunction with our on-going exhibition
ELEVEN: The John Erickson Museum of Art (JEMA) 10-Year Retrospective
May 9 – July 25, 2014
at the Bob Rauschenberg Gallery
Presented in conjunction with ELEVEN: The John Erickson Museum of Art (JEMA) 10-Year Retrospective (May 9th – July 25th, 2014) and represented in the exhibition at the Bob Rauschenberg Gallery at Edison State College (soon to be Florida SouthWestern State College) by his two solo projects [Paper Piece (1960/2014) and Bollywood Love: Object of Desire (2010)], the influential and affable artist Ben Patterson will discuss the origin and history of the Fluxus movement, his current work and his ongoing involvement with Sean Miller and the John Erickson Museum of Art.
A founding member of Fluxus, the international collective of artists known for infusing avant-garde practices with anarchic spirit and humor, Ben Patterson helped revolutionize the artistic landscape at the advent of the 1960s and was on the forefront of ushering in a new – often controversial – era of experimental music and visual art.  Now in his eighties and residing in Germany, Mr. Patterson has been the recent subject of a major traveling retrospective (organized by the Contemporary Art Museum/Houston) and has had the distinction of having his work acquired by numerous institutions – including the Permanent Collections of the Walker Art Center in Minneapolis and the Museum of Modern Art in New York.
A classically trained musician and composer whose most significant contribution to Fluxus was exploring the connection between action and music, Ben Patterson has spent more than five decades creating compositions for both the body in action ("action as composition") and the unconventional playing of his instrument, the contra bass, through ordinary gestures.  Later recognized as the first official Fluxus event, after a brief encounter with John Cage in 1960, Mr. Patterson became a fixture in the experimental music scene in Germany and co-organized and performed at the first International Festival of New Music with George Maciunas at the Staatsmuseum in Wiesbaden in 1961.
In the tradition of Marcel Duchamp, John Cage and Bob Rauschenberg, with tongue-in-cheek – often provocative – humor, Ben Patterson's work is a celebration of "ordinary life".  Employed for some years as a reference librarian, an arts administrator and as an entrepreneur with his own music management company, Patterson took a hiatus and withdrew from his career as an artist for nearly two decades.  Reemerging in the 1980's and returning to Europe to live, Ben Patterson has spent the last twenty-five years prolifically creating visual art, scores and performing his work.
"Ben Patterson to discuss Fluxus movement in Edison State College lecture and performance on June 24" from ArtSWFL.com by Tom Hall (June 17, 2014)
"Making sense of Ben Patterson's 'Fluxus in the Swamp' performance" from ArtSWFL.com by Tom Hall (June 30, 2014)