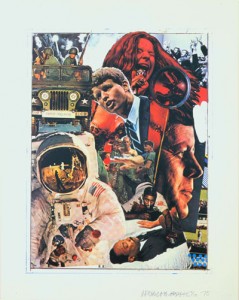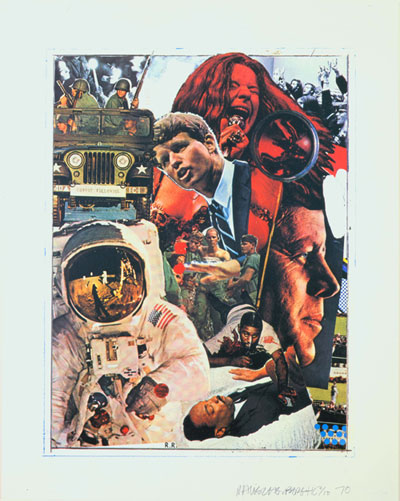 Robert Rauschenberg, Artist-Citizen: Posters for a Better World
January 11 – February 9, 2008
The gallery is pleased to welcome back world renowned artist and gallery name sake Robert Rauschenberg. Often cited as the most important artist of his generation, Rauschenberg did more than any other artist to reach beyond contemporary thinking by challenging limits, perceptions, materials and every other boundary in sight. Among those shattered boundaries is an erased de Kooning drawing, one of the most notorious art objects of the century. Rauschenberg also created a tire impression on paper with John Cage, worked extensively with the Merce Cunningham Dance Company, ushered in "Happenings" and "Pop Art," and influenced virtually all artistic thinking since Abstract Expressionism.
A career retrospective was organized by and displayed at the Solomon R. Guggenheim Museum, New York and theGuggenheimMuseum,Soho, in late 1997. The exhibit of more than 400 pieces showed Rauschenberg from 1948 to the late 90's. After decades of a relentless pursuit of imagery, Rauschenberg's mark of free association and experimentation is certainly seen on painting, performance, collage, sculpture, printmaking, and photography. It was Rauschenberg's first retrospective since 1976 and one of the largest exhibitions ever held of work by a living artist. Following theNew Yorkopening the exhibit began touring with stops inHouston,Texas, as well as venues inGermanyandSpain.
The exhibit atEdisonfeatures more than 3 dozen framed prints produced between 1966 and 2006 that reflect Rauschenberg's commitment to making the world a better place. The exhibition includes prints created for and often donated to such organizations as the United Nations and the American Environment Foundation. Also included in the show atEdisonare all of the exhibition prints from the Rauschenberg Overseas Culture Interchange (ROCI) as well as numerous other exhibition posters. Additionally there are prints in support of or that bring attention to issues and events like Earth Day, Tibet, global population and the ozone, to list a few.
Gallery Talk, January 30, 1 p.m. in the Gallery: Donald Saff, a longtime friend of Rauschenberg's, is an artist, printmaker and educator who has been a major force in the American prints and multiple movement since the 1960s. Saff founded Graphicstudio / The Institute for Research in Art in 1968 on the campus of USF, inTampa.
---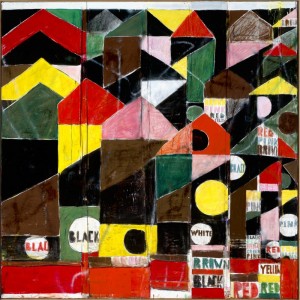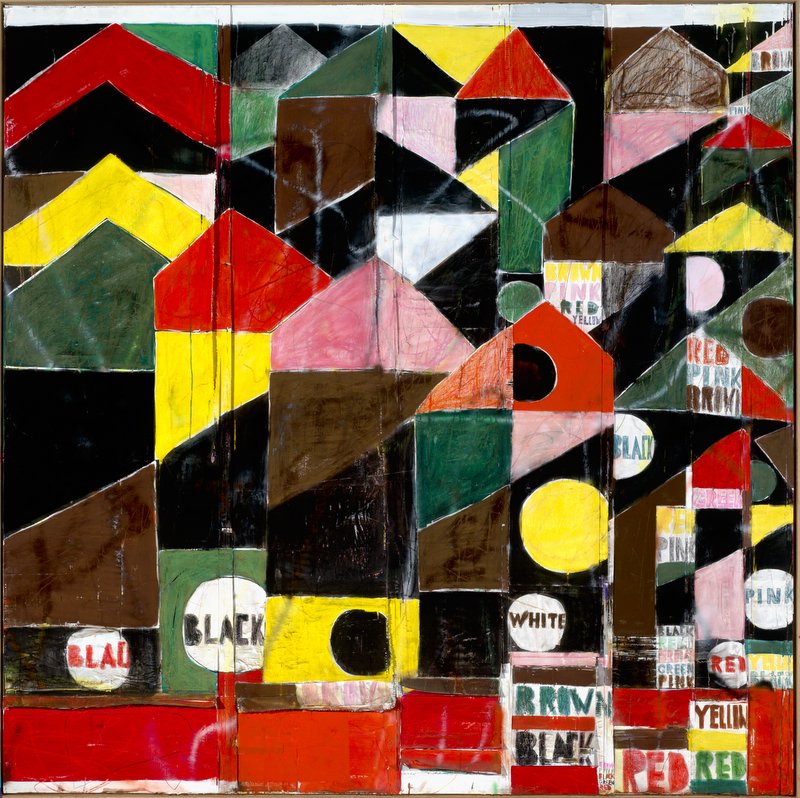 New Century New Painting: Recent Acquisitions from the Martin Z. Margulies Collection
February 22 – April 5, 2008
The Bob Rauschenberg Gallery at EdisonCollegein Fort Myers, Florida, is pleased to present New Century New Painting: Recent Acquisitions from the Martin Z. Margulies Collection. With a scope that includes the work of 14 prominent artists, with origins in countries around the world, this exhibit offers a unique perspective on the condition of painting today. From Japan, to Vietnam, to Sweden to the USA and beyond, each of these artists has found a unique vision to use as their platform for painting. Rough, finished, found, poured, taped, stapled, brushed, sprayed and cut only touch on the approaches these artists have accumulated to develop their ideas. This cutting edge exhibit offers a remarkable collection of work that includes acclaimed artists Sook Jin Jo, Chris Ofili, Karin Davie, Tal R, Jonathan Meese, Karin Mamma Andersson, Mike Cloud, Nikolaus Moser, Bram Bogart, Clare Woods, Ulf Puder, Oliver Dorfer, Tam Van Tran and Claire Sherman.
Some highlights from the exhibit include pieces by German performance, installation and visual artist Jonathan Meese, whose work is an onslaught to the senses with his self-professed responsibility to neutralize the radical by making something more radical. Also included is British artist Chris Ofili, who has a now famous exhibit at the Brooklyn Museum to his credit, as well as the Tate Museum's Turner Award and an appearance in the pivotal Venice Biennial. His work is anchored in his African heritage and the work in this exhibit is one of 6 pieces from the Christmas Eve series. Canadian born Karin Davie's ground breaking work has redefined the relationship of gesture and line in painting, setting them in concert with color to penetrate the flatness of the canvas, creating a tentative coexistence between surface and pictorial space. The highly sought after Tal R, with his colorful compositions and a deceptively easy going style, adds a unique element to the exhibit. Bram Bogart, one of Europe's preeminent painters, has brought new vocabulary to painting, blurring the line between painting and sculpture with his ultra-impasto multi pop-colored pieces. Also, Sook Jin Jo's elegant meditative constructions of found wooden panels, and Karin Mamma Andersson, another Venice Biennale representative for Sweden, round out a sample of key elements from the exhibit.
Looked at as a whole, this exhibit shows a range of ideas and technical concerns that collectively foretells an unpredictable and exciting future for painting.
The Bob Rauschenberg Gallery would like to express our sincere appreciation to Martin Z. Margulies for his generosity, and to Katherine Hinds, Collection Curator, and the staff at the Warehouse for their support and organizational assistance.
Visit the Margulies Collection at www.margulieswarehouse.com.
---
Annual Student Art Show
April 17 – May 2, 2008
The Annual Student Art Show features work created by Edison College students. Awards will be presented in the categories of Photography, Design, Ceramics, Drawing and Painting.
---
Art of the Olympians: Prelude to Beijing
May 17 – June 19, 2008
It is our pleasure to welcome you to take part in the "Art of the Olympians" exhibition. Artwork from around the world by Olympians in various sports will be on display demonstrating the very real relationship between art and sport. Whether motivated to run, jump, throw or inspired to paint, draw or sculpt the impulse to define the limits of human expression forms a cultural bond among all people. The "Art of the Olympians" exhibition is more than a display of artwork. It is a lesson for the youth of the world that dreams can come true for those who dedicate themselves to achieving what they set out to do in life. On behalf of all the Olympians from the various games, we wish to offer you a challenge; lift your heart to understand others and lift your hand to make the world a better place for all of us.
http://www.artoftheolympians.org/index.php
---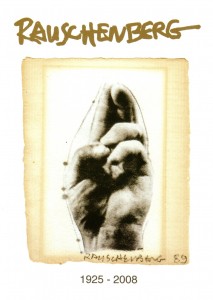 Celebrating the Life of Robert Rauschenberg
June 22 – July 3, 2008
On behalf of the family and friends of Robert Rauschenberg, Edison College will host a celebration of the famed artist's life on June 21, 2008. The public event will be held from 5 p.m. to 8 p.m. in the Barbara B. Mann Performing Arts Hall and the Bob Rauschenberg Gallery on Edison College's Lee Campus, 8099 College Parkway, Fort Myers, Florida. A tribute will begin at 5:30 p.m. in the Mann Hall. Photographs of Bob's life and Ruminations print series will be on view in the Gallery.
---
Arts for ACT Preview Exhibition
July 10 – August 14, 2008
Join Abuse Counseling and Treatment, Inc. for the preview exhibit for Arts for ACT 2008 on Thursday, July 10, from 6 to 8 p.m., at the Bob Rauschenberg Gallery off Summerlin Road, Edison College.
View the artworks from our international artists, the late Robert Rauschenberg, Darryl Pottorf, Tony Bennett and more.
This year, more than 100 pieces of art will be prominently displayed in the Bob Rauschenberg Gallery, ranging from oils, watercolors, collage, mixed media, sculpture and jewelry. There is truly something for every art lover and buyer.
This year at the preview, attendees will have the opportunity of buying that favorite piece before it goes on the auction block.
This year's auction event will again be held on August 16 at the Coconut Hyatt in Bonita Springs. The guest celebrity auctioneer will be announced soon.
---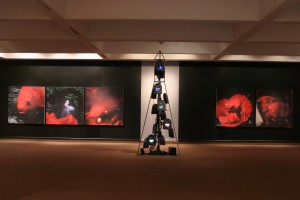 Bonnie Baxter: Rewind
August 22 – October 11, 2008
Bonnie Baxter was born inTexarkana, Texas. She has lived inVal-David, Quebec, since 1969. She has taught in the Print Media Program at Concordia University, Montreal since 1984, and she has lectured extensively and given workshops in Canada,Mexico, the USA and Turkey.
In the artist's words, "I have been an artist for a long time… making things, trying things, looking for a true narrative, a narrative of how life is… I see that life is not complicated, but it is dense, and that it is easy to get caught in this density – a tiny insect in a mass of layers, struggling to find the surface. I would rather see the layers as opportunities, evidence of the simultaneity, synchronicity, serendipity that abounds in life. Each series of work I produce acts as a semi-autobiographical translation of life – finding beauty in the commonplace: seeing that the extraordinary is common. Rewind reflects some 15 years of this practice, combining work from several series. It includes a selection of work from my large-scale digital print series on canvas, Les coquelicots and Baphomet, as well as the video imagery of Surreal and Cityscape. With imagery drawn from my travels, my art practice, and my everyday life, their layers play a counterpoint, sublime, ridiculous, and everything in between. Rewind's center piece Babel, attempts to find sense and beauty in the diversity rather than a lesson in humility."
The international tour of Bonnie Baxter: Rewind, a multi-media exhibit, is being offered by Laurentides Museum of Contemporary Art in Canada, with stops between 2006 and 2009 in Newfoundland, Alberta and Quebec, Canada, Fort Myers, Florida and Memphis, Tennessee in the USA, and Istanbul, Turkey. The artist acknowledges the generous support of the Concordia University Part-Time Faculty Association (CUPFA).
---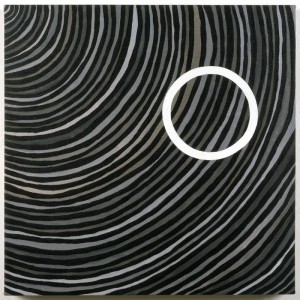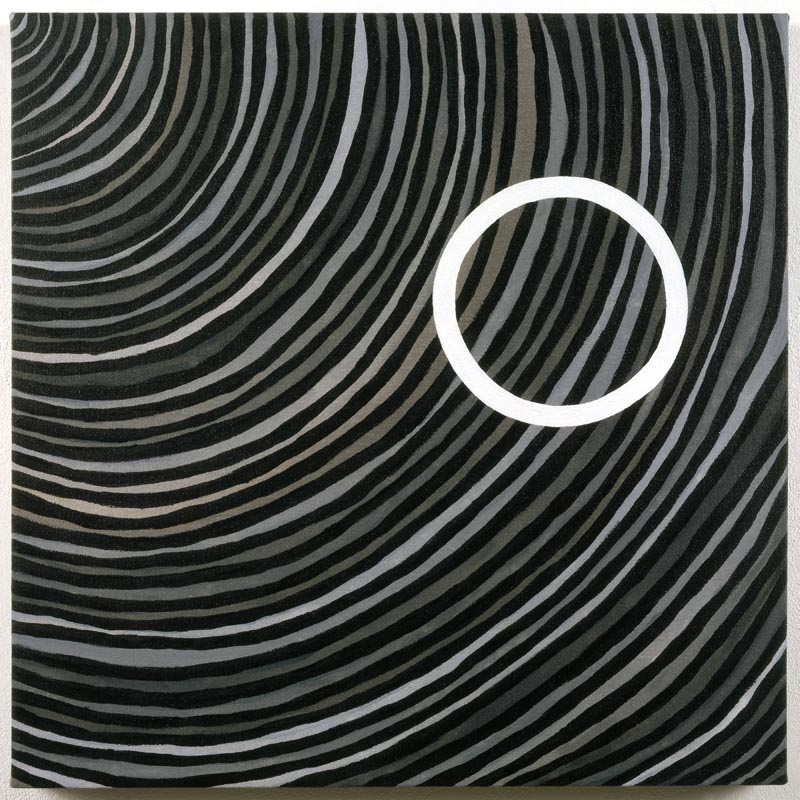 Mamie Holst: From the Series Landscape Before Dying
October 24 – December 6, 2008
With her ongoing series of black, gray, and white paintings titled "Landscape Before Dying," begun in 1997, Mamie Holst explores the inspiring abstract landscape within her experience of Chronic Fatigue and Immune Dysfunction Syndrome. She became ill with CFIDS in 1989 and was forced to return to her hometown of Fort Myers, Florida. Ms. Holst has mined her syndrome related sensations for her work's static, tremor, crosshairs, elegance, distortion, drift, space, targets, voids, isolation, and peace. When asked if it is important to her that the viewer be aware of her illness she says "I don't think it makes any difference to the painting, if the viewer is aware of my illness. I would hope that these paintings have a much broader scope than that; more about the mysteries of life. In a personal sense I like to make the viewer aware of the illness because even though it's become epidemic, and there's plenty of information available about it, there are still many people, including doctors, who choose to remain ignorant and brush it off as psychologically rather than physiologically based."
Ms. Holst also notes that "I feel like I don't really think anymore. Of course I still think or else I wouldn't function obviously, but it's a much more basic type of thinking. It's like if you try and think big thoughts, your brain hits a blank wall. When painting, it just sort of comes out. While looking at a finished painting, I can't really remember how I did it. I know where I put the lines down etc., but most of the decision making is more subconscious."
Mamie Holst was born in Florida in 1961. She received an AA degree in 1981 from Edison Community College, a BFA degree from the University of West Florida, in 1984, and an MFA degree from the School of Visual Arts, New York City, in 1987. Ms. Holst has exhibited her work in the United States, Canada and Europe. She is represented by Feature Inc. in New York City. Her solo exhibition there in 2003 was listed in Artforum, Best of 2003, December Issue, as being one of the top ten shows in the world that year by Bruce Hainley, contributing editor. A John Simon Guggenheim Memorial Foundation Fellowship was awarded to her in 2005. Mamie lives and works in Fort Myers, Florida.
http://www.featureinc.com/artist_pages/holst_artistpg.html