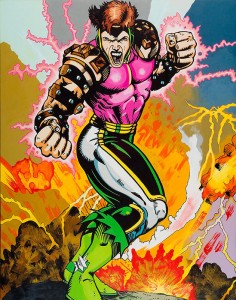 Theo Wujcik: A Ten Year Retrospective 2001 – 2011
January 13 – February 25, 2012
Curated by Barbara Anderson Hill
Theo Wujcik is masterful in combining fragmented images of contemporary popular culture to make paintings of exceptional power. Combining appropriated images found in magazine ads or from his physical surroundings, Wujcik creates hard edge, powerful works that convey a multitude of meaning. His large scale paintings of mythical heroes and notable figures can be perceived as simultaneously ominous and humorous. Wujcik makes clear that every one of his paintings, while not perhaps immediately evident to the viewer, has its own unique back story.
This exhibition of works from 2001 to 2011 expands on Wujcik's earlier traveling Florida museum 30- year retrospective 1970-2000. Wujcik lives in his studio in the heart of historic Ybor City, where his urban life and studio work are seamlessly interwoven. Retired since 2003 after serving as professor of art at the University of South Florida and master printmaker for Graphicstudio, Wujcik paints fulltime, continuing his lifelong investigation of popular culture, associating its idiosyncrasies and disconnects in a remarkable, visually poetic way.
Theo Wujcik's Website: http://www.theowujcik.com/
Article in On View Magazine (Page 100): http://www.onviewmagazine.com/On%20View%2012-1.2012.pdf
---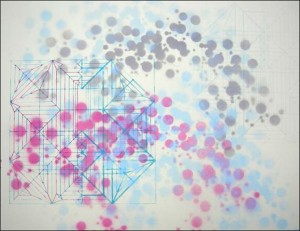 Denise Bookwalter: No Idle Hands
March 16 – April 14, 2012
Denise Bookwalter works in a range of print media including traditional and digital processes, artist's books, installations and dimensional prints. Her work has been exhibited in a variety of venues nationally as well as internationally. She received her BA from Northwestern University and her MFA from Indiana University in Printmaking. Bookwalter currently lives in Tallahassee, Florida and is an Assistant Professor of Art at Florida State University where she teaches printmaking and is Area Head of the Printmaking Department. She is the director and a founding member of Florida State University's new artists' book press, Small Craft Advisory Press.
http://denisebookwalter.com/home.html
---
All College Annual Student Art Show
April 26 – May 11, 2012


The Bob Rauschenberg Gallery is pleased to announce that for the very first time the Annual Student Art Show is open to all Edison State College students. All ESC Students were welcome to enter original artwork completed within the last year (May 2011 – April 2012). Kevin Dean, Director of the Selby Gallery, Ringling College of Art and Design, served as judge this year. Mr. Dean has selected 16 winners from the exhibit including one "Best of Show" award, five Awards of Excellence, and ten "Honorable Mention" awards.
---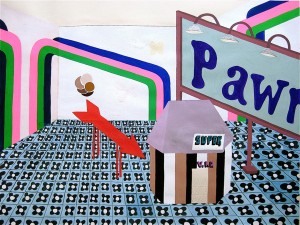 Michelle Weinberg: Pictorial Record
May 25 – June 30, 2012
Michelle Weinberg is a visual artist living and working in Miami Beach and New York. Weinberg received a BFA from the School of Visual Arts in NYC and an MFA from Tyler School of Art in Philadelphia. She has been a visiting artist and instructor at Tyler School of Art, University of South Florida, Florida Atlantic University, Miami International University of Art and Design, Kenyon College, and a mentor at Transart Institute MFA Program in Linz, Austria. She is the recipient of fellowships and residencies from Fundacion Valparaiso in Spain, Millay Colony, MacDowell Colony, Tigertail Artist Access Grant, an Artist Enhancement Grant and an Individual Artist Fellowship from the State of Florida, a South Florida Cultural Consortium Fellowship in Visual and Media Art, a FIVA Fellowship from the National Foundation for Advancement in the Arts, a Visual Arts fellowship from the Fine Arts Work Center in Provincetown, among others.
http://michelleweinberg.com/blog/
---
Annual Arts for ACT Preview Exhibit
July 13 – August 6, 2012
This marks the 12th year that the Bob Rauschenberg Gallery has sponsored the Arts for ACT preview exhibit. Artists, galleries, organizations and businesses throughout the region join together in support of ACT, Inc in its fight to end domestic violence.
Each year hundreds of pieces of original artwork are donated to ACT, Inc to be sold to benefit their programs. The Bob Rauschenberg Gallery is very pleased to host the preview exhibit and offer our space to display the work that has generously been given to ACT, Inc. As one of the community's leading arts venues, it is our privilege to not only support the efforts of this organization, but also the many talented individuals who have donated their time and work to benefit ACT, Inc.
---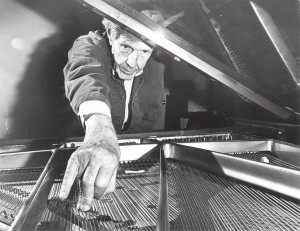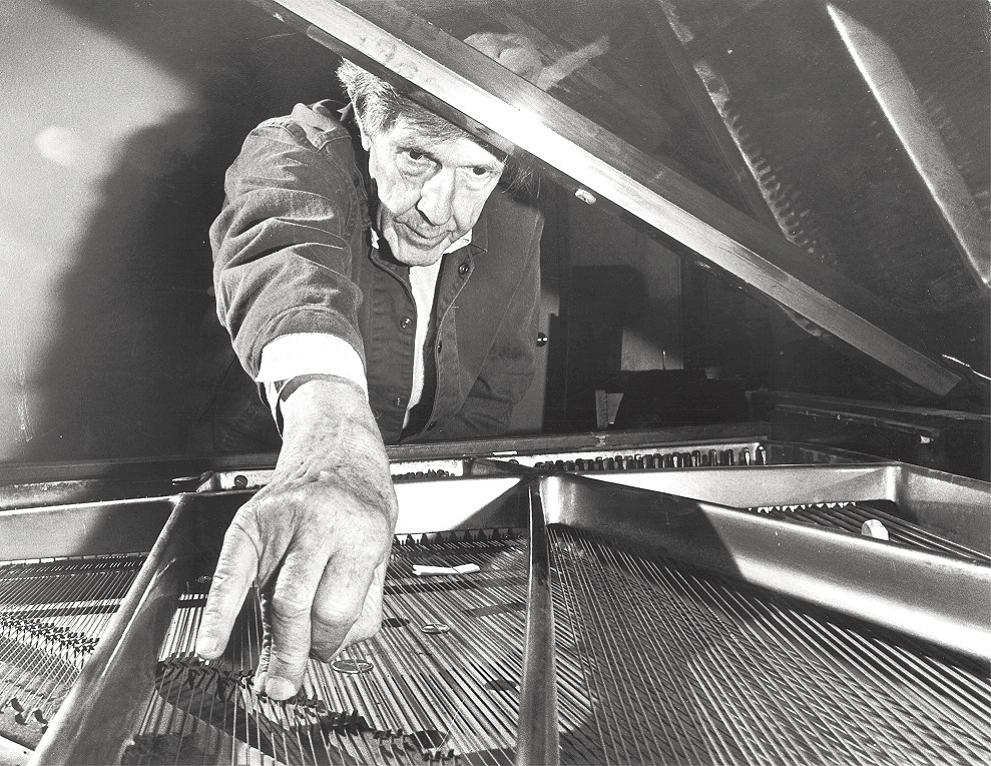 Things Not Seen Before: A Tribute to John Cage
August 24 – October 13, 2012
Curated by Jade Dellinger
Things Not Seen Before: A Tribute to John Cage (with 33-1/3 – Performed by Audience) is a visual art exhibition and interactive installation in celebration of the 2012 birth centenary of one of the most significant and influential creative thinkers of the 20th Century. An intimate friend and collaborator of Bob Rauschenberg's, the composer once noted: "I am very happy to have known Marcel Duchamp and to be living still in the time of Rauschenberg… I am not interested in the names of movements but rather in seeing and making things not seen before." Marking a decade since originating his survey The Visual Art of John Cage in Ft. Myers in 2002, the Bob Rauschenberg Gallery at Edison State College now revisits the monumental impact and continuing legacy of John Cage.
Consisting largely of material not previously exhibited (much created specifically for this project), Things Not Seen Before includes John Cage-related or –inspired works by colleagues and collaborators including Fluxus pioneers Nam June Paik, Philip Corner, Giuseppe Chiari, Yoko Ono and Milan Knížák. Numerous others who closely followed or befriended and were profoundly influenced by Cage – like Performance artist Laurie Anderson, ex-Talking Heads front man David Byrne, The Art Guys, Lee Ranaldo from Sonic Youth, Christina Kubisch, Andrew Deutsch, Stephen Vitiello and winner of the Golden Lion for Best Artist in the 2011 Venice Biennale, Christian Marclay are also featured. A number of prominent regional artists like sculptor Joe Griffith, Tony Wong Palms and Theo Wujcik (who met and photographed Cage in Florida in the 1980's) have contributed new works. Plus, several original pieces (mesostic manuscripts, early lithographs, a monotype, "Busoni Chart for HPSCHD"/score and plexigram) all created by John Cage are positioned on gallery walls with the artist's own (rather unorthodox) installation method derived through chance operations.
Perhaps best known for his controversial composition 4'33" (1952) which was divided into three timed movements (totaling four minutes and thirty-three seconds) without playing a single musical note, John Cage created his so-called "silent piece" while adamantly asserting that there is "no such thing as silence." The avant-garde composer pioneered electro-acoustic music, the non-standard use of musical instruments, and created his "prepared piano" by inserting found objects between its strings to alter and expand its sound. He studied Eastern Philosophy and Zen Buddhism, and frequently employed chance operations as a compositional tool – with the aid of the ancient Chinese Book of Changes (the I-Ching) and the tossing of coins.
Central to the exhibition at Edison State College (and through the generosity of the Tampa Museum of Art), Things Not Seen Before features a special interactive installation of John Cage's 33-1/3 – Performed by Audience. Conceived in 1969 as a visitor participation piece, Cage's 33-1/3 encourages gallery-goers to engage freely with a room full of record players and stacks of vinyl LPs. However, as the composer never specified LP titles for use in the installation, a prominent group "guest curators" have been invited to submit Top 10 picks to fill record bins in the Bob Rauschenberg Gallery – including Iggy Pop, Mark Mothersbaugh/Devo, Richie Ramone/The Ramones, Pauline Oliveros, Meredith Monk, John Baldessari, William Wegman, Graham Nash, Bryan Ferry/Roxy Music, Joan La Barbara, David Harrington/Kronos Quartet, Vito Acconci, Matthew Barney, Jim Rosenquist, Ed Ruscha and others.
Each "guest curator" for John Cage's 33-1/3 – Performed by Audience was given the freedom to determine their own rationale and approach for making selections. Many included records to which they had contributed, while others (like Mike Kelley, The Residents and Alex James from Blur) were resolute about not including their own recordings. Some approached the challenge with the potential blend of music and voice foremost in mind, like David Byrne in committing entirely to obscure "spoken word" LPs (from Alfred Wolfsohn's Experiments in the Extension of The Human Vocal Range on Folkways Records to the recordings of mentally ill Frank Zappa protégé Wild Man Fischer and the poet T.S. Eliot). Blixa Bargeld of the infamous German industrial noise band Einstürzende Neubauten reverently dedicated his entire Top 10 to a wide array of rare John Cage records, while Yoko Ono focused wholly her own recordings (and those of her late husband John Lennon and son Sean Ono Lennon). Jack White/The White Stripes provided special pressings from his Third Man Records label, and Emil Schult from the Teutonic electronic music pioneers Kraftwerk contributed vintage vinyl from his personal record collection.
As artist/participant Lee Ranaldo recently recalled: "I remember John talking about how he didn't like to listen to a record more than once. What was the point? If one gave oneself over to the experience the first time, then why repeat? He didn't really care for the idea of music as 'fixed in time' on a black platter. He said he'd rather open the window and listen to the trucks rolling by, or whatever else was coming in -the constantly changing music of NOW rather than a packaged simulacra of 'then'. Of course that's the real idea behind 4'33″ – it's not a silent piece at all – there is always sound! Those comments have long stayed with me, in spite of the fact that I love both making records and playing records – often the same ones over and over again."
The duration of 33-1/3 is indeterminate. When first performed at the University of California/Davis, the audience interacted with John Cage's record installation for nearly four hours. However, 33-1/3 – Performed by Audience at the Bob Rauschenberg Gallery is accessible on a daily basis – during regular gallery hours (and for the occasional special event). As Cage would have expected, the work remains "silent" when there are no visitors to interact with it – and cacophonous (or perhaps most musical) when fully occupied by audience-performers. As John Cage famously surmised: "Until I die there will be sounds. And they will continue following my death. One need not fear about the future of music."
Jade Dellinger, Guest Curator
John Cage's 33 1/3 © 1969 by Henmar Press Inc. Used by permission of C.F. Peters Corporation. All rights reserved.
For more about the John Cage Centennial celebrations worldwide, please visit the John Cage Trust at Bard College at www.JohnCage.org.
---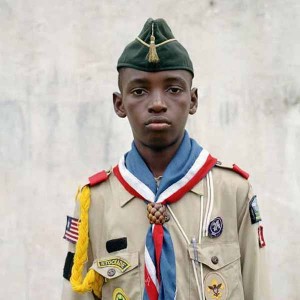 Africa: Photographs and Video from the Martin Z. Margulies Collection
October 26 – December 8, 2012
The dynamics of life in Africa are as complicated as the continent is vast. Through some 50 works of art produced over the past 60 years, by African as well as non-African artists, this exhibit reveals some of those complexities as observed through the eyes of these world renowned photographers and videographers. Artists in the exhibition include:
Malick Sidibé – recipient of the Hasselblad Award, the Golden Lion at the Venice Biennale and the International Center of Photography award for lifetime achievement
Vivian Sassen – won the International Center of Photography in New York's Infinity Award for Applied Fashion Advertising Photography in 2011
George Rodger – international photographer, who in 1947, along with three other photographers—Henri Cartier-Bresson, Robert Capa, David Seymour,—founded Magnum Photos to tell the world's stories with editorial freedom
Robin Rhode – included in the 51st Venice Biennale, Venice, IT in 2005
Lyle Owerko – international photographer, photographed the image that appeared on the cover of Time Magazine's September 11, 2001 issue
George Osodi – a Nigerian photographer who won First Prize, Fuji African Photojournalist of the year in 2004
Arnold Newman – acknowledged as one of the great masters of the 20th and 21st centuries and his work has changed portraiture. He is recognized as the "Father of Environmental Portraiture." His work is collected and exhibited in the major museums around the world.
Zwelethu Mthethwa – lives and works in Cape Town and exhibits internationally
Seydou Keïta – one of the great African portraitists, exhibits internationally
Alfredo Jaar – artist, architect, and filmmaker. Lives and works in New York. He became a Guggenheim Fellow in 1985 and a MacArthur Fellow in 2000.
Pieter Hugo – a South African, won the African First prize, Portraits section, World Press Photo Getty Images Young Photographer Award. One of the most representative photographers of his generation, his works explore the most striking contradictions of African societies.
Tim Hetherington – photographed the experience of war from the perspective of the individual, mostly in West Africa and the Middle East. His film Restrepo, which he co-directed with Sebastian Junger about a platoon of soldiers in Afghanistan, was awarded the Grand Jury Prize at the 2010 Sundance Film Festival and was nominated for an Academy Award in 2011 for Best Documentary Feature. On April 20, 2011 while covering the conflict in Libya, Tim Hetherington and fellow photographer Chris Hondros were killed by Libyan forces in a mortar attack on the besieged city of Misrata.
Jackie Nickerson – a photography based visual artist. She was born in Boston, USA and has an international reputation for photographing people and their environments.
David Goldblatt – received the Lucie Award for Lifetime Achievement, Henri Cartier- Bresson Award, France, and the prestigious Hasselblad Photography Award
Peter Friedl – has exhibited in numerous solo and group shows around the world including the 48th Venice Biennale
Roger Ballen – has an extensive international exhibition record. Created the Roger Ballen Foundation dedicated to the advancement of education of photography in South Africa.
http://www.margulieswarehouse.com/