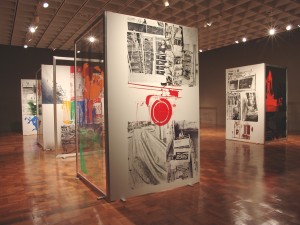 Bob Rauschenberg
January 7 – February 26, 2005
The Bob Rauschenberg Gallery, Edison College, is pleased to welcome back world-renowned artist Robert Rauschenberg.  Mr. Rauschenberg has been a friend of the gallery for 25 years with this being his 12th exhibit at Edison.
The new exhibit, titled "A Quake in Paradise (Labyrinth) 1994" features a large scale, free standing piece created at Rauschenberg's Captiva Island studio.  This piece was created using acrylic and graphite on 29 panels of bonded aluminum, anodized mirrored aluminum and polycarbonate (Lexan) with aluminum framing.   "A Quake in Paradise (Labyrinth)" has only been shown in Italy and Switzerland, making this the first United States showing of the work.
The exhibit will open January 7 and runs through February 26, 2005.  The exhibit opens to the public on Friday, the 7th, with a reception in the gallery from 6 – 8 p.m.  Kat Epple will perform and the Docents of the Gallery will provide refreshments.  A new exhibit poster and posters from all prior Rauschenberg exhibits will be on sale at the opening reception.  Additionally, the limited edition print "Restoration" will also be available that evening.
Saturday, January 8th, the Gallery will host a lecture and book signing with Mary Lynn Kotz, acclaimed author of "Rauschenberg / Art and Life," a Harry N. Abrams, Inc. book.  The lecture and slide presentation will be held in Corbin Auditorium at Edison College.  The book signing, to be held in the Gallery, will follow the lecture.  Lecture is at 2 p.m. and the book signing will follow at 3 p.m.  There is no charge for the lecture.