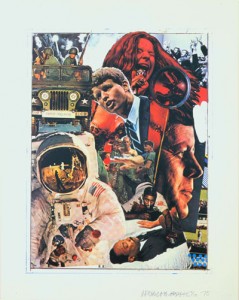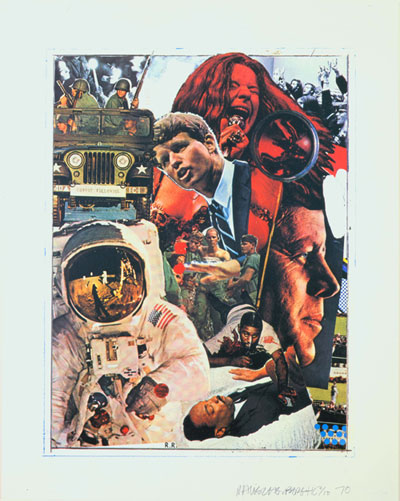 January 11 – February 9, 2008        
The gallery is pleased to welcome back world renowned artist and gallery name sake Robert Rauschenberg.  Often cited as the most important artist of his generation, Rauschenberg did more than any other artist to reach beyond contemporary thinking by challenging limits, perceptions, materials and every other boundary in sight.  Among those shattered boundaries is an erased de Kooning drawing, one of the most notorious art objects of the century.  Rauschenberg also created a tire impression on paper with John Cage, worked extensively with the Merce Cunningham Dance Company, ushered in "Happenings" and "Pop Art," and influenced virtually all artistic thinking since Abstract Expressionism.
A career retrospective was organized by and displayed at the Solomon R. Guggenheim Museum, New York and theGuggenheimMuseum,Soho, in late 1997.  The exhibit of more than 400 pieces showed Rauschenberg from 1948 to the late 90's.  After decades of a relentless pursuit of imagery, Rauschenberg's mark of free association and experimentation is certainly seen on painting, performance, collage, sculpture, printmaking, and photography.  It was Rauschenberg's first retrospective since 1976 and one of the largest exhibitions ever held of work by a living artist.  Following theNew Yorkopening the exhibit began touring with stops inHouston,Texas, as well as venues inGermanyandSpain.
The exhibit atEdisonfeatures more than 3 dozen framed prints produced between 1966 and 2006 that reflect Rauschenberg's commitment to making the world a better place.  The exhibition includes prints created for and often donated to such organizations as the United Nations and the American Environment Foundation.  Also included in the show atEdisonare all of the exhibition prints from the Rauschenberg Overseas Culture Interchange (ROCI) as well as numerous other exhibition posters. Additionally there are prints in support of or that bring attention to issues and events like Earth Day, Tibet, global population and the ozone, to list a few.
Gallery Talk, January 30, 1 p.m. in the Gallery: Donald Saff, a longtime friend of Rauschenberg's, is an artist, printmaker and educator who has been a major force in the American prints and multiple movement since the 1960s. Saff founded Graphicstudio / The Institute for Research in Art in 1968 on the campus of USF, inTampa.