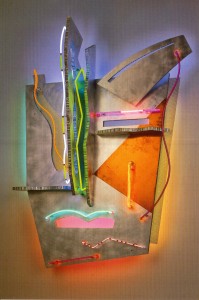 Voltwerks: The Fine Art of Electricity
January 11 – February 17, 2002
The critically acclaimed "VOLTWERKS: The Fine Art of Electricity," an art exhibition featuring works of art that illuminate the dexterity of electric light, will be hosted by the Edison College Gallery of Fine Art January 11 – February 17, 2002, Fort Myers, FL. More than 45 artists from southwest Florida and across the country have been invited by multimedia artist and curator Mary Sullivan Voytek to participate in this Edison Festival of Light sanctioned event. Voytek, who curated this and three previous critically acclaimed group shows in Fort Myers on "enlightened" art, assures creative artwork using electricity will abound.
As in the past, VOLTWERKS will feature internationally known artists from as far away as New York City (Rocky Pinciotti and Ingo Maurer), Washington DC (Craig Craft) and Montreal (Andrey Berezowsky) to as close to home as Captiva (Robert Rauschenberg and Darryl Pottorf) and Naples (Christopher Poehlmann). In addition to works of art created specifically for the exhibition by the artists themselves, artwork on loan from institutions like Graphicstudio in Tampa as well as prestigious private collections like the Martin Margulies Collection in Miami will also be on display.
A multimedia exhibition, the contemporary art will ignite viewers' imaginations. Whether photography, video, holography, laser, neon, plasma, wood, metal or painting, the "enlightened" works of art comment on or involve light or electricity, celebrating the Edisonian heritage of innovation and invention. Morgan T. Paine, art professor at Florida Gulf Coast University, will contribute a conceptual work while sculptor Lawrence Voytek will exhibit his monumental, neon-illuminated 1957 Porsche.
The event is sponsored by Northern Trust Bank, The Bireley Family Foundation, Dr. John and Fran Fenning and the Edison Community College Foundation, Inc.
---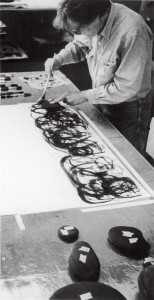 The Visual Art of John Cage
February 22 – March 24, 2002
The Gallery of Fine Art, Edison College is pleased to announce the first in a series of three exhibits featuring the most influential trio in the history of American Art, John Cage, Robert Rauschenberg and Merce Cunningham.
The first exhibit: The Visual Art of John Cage, February 22 – March 24, 2002. This extraordinary exhibit of Cage's visual art includes 36 pieces completed between 1969 and 1992, the year of Cage's death, and includes drawings, etchings, lithographs, aquatints, watercolors and three-dimensional plexigrams.
John Cage was born in Los Angles, California in 1912. Cage graduated from Los Angles High School as class valedictorian in 1928 and attended Pomona College for the next two years. In 1930 Cage traveled to Europe where he studied architecture and piano, and began to compose music. In 1934-35 Cage studied privately with Arnold Schonberg, and at the University of Southern California, and UCLA. Promises Schonberg to devote his life to music. In 1938 Cage moved to Seattle as composer-accompanist for Bonnie Bird's modern dance classes at the Cornish School, also meets Merce Cunningham, a student of Bonnie Bird's, as well as Mark Tobey and Morris Graves.
Laszlo Moholy-Nagy invites Cage, in 1941, to teach a class in experimental music at the Chicago School of Design. Cage moves to New York in 1942 and writes his first work to accompany a dance by Merce Cunningham, the beginning of a lifelong collaboration. Through his acquaintance with Max Ernst and Peggy Guggenheim, Cage also meets Marcel Duchamp in1942. During this same time frame Cage's reputation as a key figure of the avant-garde is solidified. He directs a concert of percussion music at the Museum of Modern Art in 1944 and his first joint recital with Merce Cunningham occurs. In 1945 Cage begins to study philosophy and the music of India, and for two years he attends lectures on the philosophy of Zen Buddhism at Columbia University. In 1947 The Ballet Society of New York commissions his score for the Seasons, with choreography by Merce Cunningham and décor by Isamu Noguchi.
In 1948 Cage teaches at Black Mountain College in North Carolina and meets R. Buckminster Fuller whose thought would have a long lasting impact. In 1949 Cage receives a Guggenheim Fellowship from the American Academy and National Institute of Arts and Letters and continues to give concerts and dance recitals with Cunningham, now in Paris. In 1950 Cage meets David Tudor and collaborates on numerous projects and performances in the coming years. During this time he meets and becomes friends with many of the Abstract Expressionists. 1951 becomes a pivotal year for Cage as he is introduced to the I Ching, the Chinese Book of Changes, which becomes an essential tool for his musical compositions, and later, his texts and visual art. He shortly thereafter writes his first composition, Music of Changes for piano, based entirely on chance operations.
In 1952 Cage is again teaching at Black Mountain College and organizes an untitled event with Cunningham, Robert Rauschenberg, David Tudor, and the poets Charles Olson and M.C. Richards. In the 45-minute event each participant simultaneously performs unrelated actions, and is later seen as the prototype for the "Happenings" and "Fluxus" movements of the 1960's. During this time Cage also collaborates with Rauschenberg on Automobile Tire Print and writes the famous 4'33", a silent piece in three movements.
In 1953 the Merce Cunningham Dance Foundation is formed with Cage as the Musical Director. He also meets Jasper Johns this year. In 1956 he writes Music for Piano by noticing imperfections in the paper he is using.
In May of 1958 a retrospective concert of 25 years of Cage's music is organized by Jasper Johns, Robert Rauschenberg and Emile de Antonio and presented at Town Hall in New York. A group of Cage's original scores is shown at the Stable Gallery in New York. Meets Nam June Paik this year. Commissioned by the Montreal Festival Society in 1960 to write a major orchestral work, Atlas Eclipticalis, composed with astronomical charts and I Ching chance operations. The New York Philharmonic Orchestra at the initiation of Leonard Bernstein also performs Atlas Eclipticalis, in 1964. In 1965 Cage becomes President of the Cunningham Dance Foundation and a Director of the Foundation for Contemporary Performance Arts.
In 1967 Cage is composer in residence at the University of Cincinnati, and in 1968 is elected to the American Academy and Institute of Arts and Letters. In 1968 Cage also creates Reunion, continuously activated sound systems gated by moves on an electrically enhanced chessboard, which included Marcel and Teeny Duchamp among the performers. Cage is artist in residence at the University of California, Davis in 1969, also the year he completes his first major graphics work, Not Wanting to Say Anything About Marcel, with Calvin Sumsion.
Cage is appointed Fellow for Advanced Studies at Wesleyan University in 1970 and continues to make use of Thoreau's writings to derive both music and prose. Creates 62 Mesostics re Merce Cunningham in 1971, subjecting over 700 typefaces and sizes to chance operations. Exhibits at Galeria Schwarz, Milan. Produces Mushroom Book in 1972, which includes 10 handwritten lithographs. In 1973 he exhibits scores and plexigrams at Carl Solway Gallery, Cincinnati. M is published by Wesleyan University. In 1975 Cage is commissioned by the Canadian Broadcasting Corporation for a work related to the Bicentennial of the USA, and in 1976 is commissioned by Seiji Ozawa and the Boston Symphony Orchestra for a major Bicentennial work.
In 1977 Cage is invited by Kathan Brown, Crown Point Press, to come to Oakland to make etchings. Cage had started to work on visual art in 1969 but it was at this time he sustained the pursuit.
Between 1983 and 1992, the year of his death, Cage produced some 150 drawings and he made 114 watercolors in two sessions at the Mountain Lake Workshop in Virginia. At the same time he continued to refine his printmaking approach while working at Crown Point Press. He also designed complex room-sized installations including one for the Carnegie International Art Exhibition in Pittsburgh. Rolywholyover was initiated by the Museum of Contemporary Art in Los Angles and planned by Cage, but realized after his death. Rolywholyover was a traveling exhibition of his own art, along with works by other artists and a sampling of things from local museums.
Cage developed his visual art in the same way he developed musical compositions. Technical assistants and printmakers were his new musicians. He composed scores for them to execute. On chance operations Cage said "you're basically shifting from the responsibility to choose to the responsibility to ask. People frequently ask me if I'm faithful to the answer, or if I change them because I want to. I don't change them because I want to. When I find myself in the position of someone who would change something—-at that point I don't change it. I change myself. It is for that reason I have said that I am not involved in self expression, I'm involved in self-alteration."
All of the work in the exhibit is on loan from the John Cage Trust and the Margarete Roeder Gallery , both New York City.
Laura Kuhn, Executive Director of the John Cage Trust, New York, NY will give a talk in the gallery on March 1, 2 p.m. Ms. Kuhn will discuss the work in the exhibit as well as other aspects of Cage's career.
---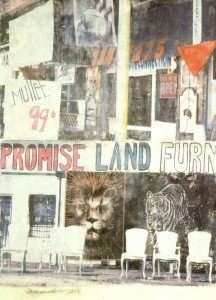 Robert Rauschenberg: Recent Work
March 28 – April 28, 2002
The Gallery of Fine Art, Edison College, is pleased to welcome back world-renowned artist Robert Rauschenberg. This exhibit, titled "Robert Rauschenberg: Recent Work" is taken from Mr. Rauschenberg's most recent series of paintings, titled "Short Stories," which was executed between 2000 and 2002. The exhibit will open March 28 and run through April 28, 2002. The exhibit opens to the public on March 28with a reception in the Gallery from 6 – 9 p.m. Kat Epple will perform and the Docents of the Gallery will provide refreshments.
Robert Rauschenberg, often cited as the most important artist of his generation, did more than any other artist to reach beyond contemporary thinking by challenging limits, perceptions, and every other boundary in sight. After all, this is the artist who erased a deKooning drawing, created a tire impression on paper with John Cage, worked extensively with the Merce Cunningham Dance Company, ushered in "Happenings" and "Pop Art," and influenced virtually all artistic thinking since Abstract Expressionism.
A career retrospective was organized by and displayed at the Solomon R. Guggenheim Museum, New York and the Guggenheim Museum, Soho, in late 1997. The exhibit of more than 400 pieces showed Rauschenberg from 1948 to the present. In the fifty years of relentless pursuit of imagery, Rauschenberg's mark of free association and experimentation is seen on painting, performance, collage, sculpture, printmaking, and photography. It was Rauschenberg's first retrospective since 1976 and one of the largest exhibitions ever held of work by a living artist. Following the New York opening the exhibit began touring with stops in Houston, Texas, as well as venues in Germany and Spain.
The exhibit at The Gallery of Fine Art, Edison College, is comprised of 15 large format pieces, measuring 85 ½" x 61", that were completed between 2000 and 2002. The mixed media work, all on polylaminate, was executed using a pigment transfer process or vegetable dye transfer process, and also incorporates acrylic and/or graphite. The highly technical process Mr. Rauschenberg uses to create his work was developed at his Captiva studio. The process includes creating, on a film, computer-driven soluble (transferable) laser images of Mr. Rauschenberg's own photographs. Those laser images are then used by Mr. Rauschenberg in creating his paintings.
To make this exhibit more accessible to the students and faculty at Edison Community College and to the greater Fort Myers area, the normal days of operation are being extended to include Mondays.
---
Annual Student Art Show
May 2 – 19, 2002
This is the final exhibit of the school year and features work created by Edison art students. 1st, 2nd and 3rd place awards will be presented in the categories of Photography, Drawing, Ceramics Painting, Design, Ceramics Wheel and Ceramics Hand. In addition, a "Rising Star" award will be awarded to a full time, first year student who shows exceptional promise. This exhibit is sponsored by the South West Florida Craft Guild and the Docents of the Gallery of Fine Art.
---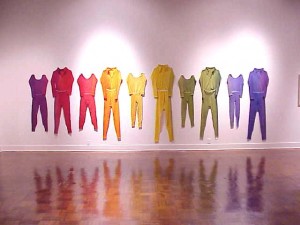 Merce Cunningham
May 30 – July 3, 2002
The Gallery of Fine Art, Edison College, is pleased to present the work of Merce Cunningham, considered to be the most influential choreographer in the world today. The work in this exhibit is on loan to the Gallery from the Cunningham Dance Foundation and the Margarete Roeder Gallery, both of New York City.
The exhibit opens to the public Thursday May 30 at 4 p.m. with a talk in the gallery by Merce Cunningham, Trevor Carlson Director of Communications for the Cunningham Dance Foundation and Laura Kuhn, Director of the John Cage Trust. Following the talk the Gallery will be open until 8pm to view the exhibit. The exhibit runs through July 3, 2002. The Gallery will be observing the "summer hours" of the college and be open Monday – Thursday from 10 a.m. to 4 p.m.
Featured work in the exhibit includes a series of prints created to benefit the Cunningham Dance Foundation (which includes artists Robert Rauschenberg, Jasper Johns, Andy Warhol, Morris Lewis, Bruce Nauman, John Cage and Morris Graves,) performance costumes designed by Jasper Johns, Robert Rauschenberg and Merce, archived performance photographs from the Cunningham Dance Company, rarely seen manuscript dance notations as well as the delightfully whimsical drawings from nature by Merce. Additionally, throughout the exhibition there will be 3 videos of interviews and performances running in the Gallery.
Merce Cunningham was born in 1919 in Centralia Washington and received his first formal dance and theater training at Cornish School (now Cornish College of the Arts) in Seattle. From 1939 to 1945 he was a soloist with Martha Graham. During that time, he began to choreograph independently, presenting his first New York solo concert with John Cage in April 1944. He continued to present annual concerts, by himself or with an ad hoc group of dancers, until the formation of the Merce Cunningham Dance Company at Black Mountain College in the summer of 1953. Since that time Cunningham has choreographed nearly 200 works for his dance company's world-wide performances. Cunningham's interest in contemporary technology has also led him to work with the computer program LifeForms, which he has used in making all his dances since 1991.
He has choreographed works for the New York City Ballet, American Ballet Theatre and the Ballet of the Paris Opera. His work has also been included in the repertories of numerous ballet and modern dance companies around the world, among them the Boston Ballet, Mikhail Baryshnikov's White Oak Dance Project, Pacific Northwest Ballet, Pennsylvania Ballet, Cullberg Ballet (Stockholm), Rambert Dance Company (London), the Ohio Ballet, Charleroi/Danses, Repertory Dance Theater (Salt Lake City), Dayton Contemporary Dance Company, and Theatre du Silence (France).
In 1999 Cunningham was given the Premio Internazionale "Gino Tani" and he received a Handel Medallion from the Mayor of New York City. In 1995 he was awarded the Golden Lion of the Venice Biennale. Cunningham and John Cage (posthumously) were awarded the Wexner Prize of the Wexner Center for the Arts at Ohio State University in 1993. Cunningham was also a recipient of the National Medal of Arts in 1990 and the Kennedy Center Honors in 1985, in which year he also received the Laurence Olivier Award in London and a MacArthur Fellowship. In France, he was made a Chevalier of the Legion d'Honneur in 1989.
Cunningham has collaborated with many significant artists of our time including John Cage, Robert Rauschenberg, Jasper Johns, and Andy Warhol, among others. He also collaborated with filmmaker Charles Atlas on three original works for film, and three original works for video. In the fall of 2000, a new documentary was directed by Atlas and produced by French, American and British television.
Cunningham's work has been the subject of major exhibitions at two contemporary art museums, the Walker Art Center in Minneapolis and the Museo d'Arte Contemporaneo del Castello di Rivolli, Torino, Italy.
Cunningham has collaborated on two books about his work: Changes: Notes on Choreography, with Frances Starr, and The Dancer and the Dance, interview with Jacqueline Lesschaeve. The latter, originally published in French, has also been translated in German and Italian. Merce Cunningham/Dancing in Space and Time, a collection of critical essays edited by Richard Kostelanetz, was published in 1992. Merce Cunningham: Fifty Years, chronicle and commentary by David Vaughan, archivist of the Cunningham Dance Foundation, was published in September of 1997, with a French translation published the same year, and just released by Aperture is the book Other Animals which documents his drawings and journals.
In the year 2000 on the occasion of their bicentennial, the Library of Congress recognized Merce Cunningham as a Living Legend for the lasting contribution he has made in enriching our lives.
Web sites with information about Merce Cunningham:
www.merce.org Merce Cunningham Dance Foundation, links to all aspects of the Company
http://www.pbs.org/newshour/bb/entertainment/july-dec99/merce_8-24.html Interview by Elizabeth
Farnsworth
http://www.salon.com/weekly/interview960722.html Interview by Cynthia Joyce
http://www.brunel.ac.uk/depts/pfa/bstjournal/1no1/DEEreynolds.htm Story by Dee Reynolds
http://www.nypl.org/press/merce.html New York Public Library acquires Cunningham Dance Foundation
Collection
Books:
Merce Cunningham 50 Years … David Vaughan author … available through Aperture Foundation
Other Animals … Available through Aperture Foundation (www.aperture.org)
Both books will be available in the gallery during the exhibit.
---
Arts for ACT
July 18 – August 22, 2002
From July 18 – August 22 the Gallery of Fine Art will host the preview exhibit for the annual charity gala Arts for ACT 2002. The donated work of more than 150 local, national and international artists will be shown at Edison prior to the August auction to benefit Abuse Counseling and Treatment, Inc.
---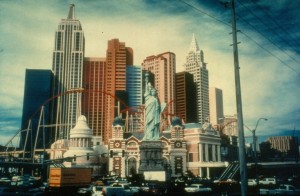 Amelia Tierney
September 6 – October 13, 2002
The Gallery of Fine Art, Edison College, is pleased to present the photographic work of Amelia Tierney. A Florida resident, Amelia lives in Flagler Beach and has been a photographer for more than 30 years. Amelia's education and studies have had her at Briarcliff College, Yale Workshop, Silvermine College of Art, Vanderbilt University, The New School of Social Research, Mills College, California College of Arts and Crafts and the San Francisco Art Insititute.
With more than 150 exhibits of her work in the past 30 years Amelia Tierney clearly is one of Florida's most significant photographers. Amelia's photography, taken on her extensive travels in the United States, Europe, South America and the Caribbean has been exhibited in more than 30 states including over 50 university and college venues. Amelia's exhibition record of one person, two person and group shows includes exhibits at Boca Raton Museum of Art, Florida, Gulf Coast Museum of Art, Belleair, Florida, Museum of Fine Art, Florida State University, Orlando Museum of Art, Florida, Ohio State University, Mansfield, Ohio, University of California, Berkeley, California, University of Minnesota, Minneapolis, Minnesota and the Vanderbilt University, Nashville, Tennessee to name just a few.
The exhibit at Edison College includes images from several series that Amelia has worked on and also shows her technical versatility. Featuring 40 photographs, including black and white infrared photographs, digital photographs, polacolor transfers and giclée prints, the exhibit challenges the viewer's concept of reality and fantasy by combining unexpected objects that find their relationships primarily in the realm of ideas.
Black and white infrared film photographs invisible light and, in Amelia's work, adds an unreal quality by softening the grain and changing the tones. Whites glow, skies turn dark and plants turn white. Photography becomes removed from what is normally considered "photographic" reality. The camera shows a reality slightly different than the eye sees, underscoring the relationships between the objects. There are 12 black and white infrared images in the exhibit.
In the past few years Amelia has spent less time with her Leicas and in the darkroom favoring her Macintosh computers, Epson printers and digital cameras (first a Kodak DC 290 and then a Canon Power Shot G1.) For Amelia, PhotoShop and its multifaceted functions have captured her attention and now dominate her recent work. In Amelia's words her "years of experience in photography and training in printmaking have given her an enormous boost in learning the various possibilities inherent in printing from a computer. The results of the disciplines of printing with light and with traditional inks are both contained in the labyrinth of possibilities found in our new digital technology. With the touch of a finger, with no hand mixing of chemicals or toxic inks, or long hours in the dark, I can create work that is as complex or more so and as exciting as those other mediums of the past." Giclée Printing (jhee-clay) is derived from the French verb gicler meaning to squirt. The term Giclée print typically connotes a certain elevation in printmaking technology. Images are high-resolution digital scans printed with archival quality inks. The Giclée process provides better color accuracy than other means of reproduction. Giclée prints, also known as Iris prints, have the advantage of being easily reproduced as needed. There are 14 Giclée prints in the exhibit.
Included in this exhibit are 14 examples of Polacolor transfers. In brief, image transfer is the process of peeling apart a Polacolor negative and transferring the positive onto a non-photographic paper. Current approaches range from making transfer images from 35mm slides via the Vivitar instant slide printer, to projection printing in the dark room, to shooting directly onto Polacolor film. Using slides allows you to reproduce the same image while direct transfers are truly original artwork.
---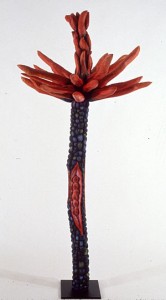 Dreams Streams and Ex Votives
Irene Gennaro
October 25 – December 8, 2002
The Gallery of Fine Art, Edison College, is pleased to announce an exhibition of the work of Irene Gennaro. The exhibit, "Dream Streams and Ex Votives" will open to the public Friday evening, October 25, from 6 to 8 pm. The artist will give a talk in the gallery at 7 pm. The exhibit, over 40 hand carved and painted wood sculptures, spans the past 15 years of Gennaro's career and includes work from the "Spirit Messenger", "Dream Works", "Ex Votive" and most recently the "Dream Catch" series.
It is almost unnecessary to make the statement that Irene Gennaro's work is enigmatic. The various series titles are clear indication of that and viewing the work gives an immediate sense of the familiar and at the same time a sense of the unknown. But the enigma of Gennaro's work goes considerably further than that. Her work stands alone, outside urban sculptors and their found or burnt or prefabricated forms, outside mainstream battles of concept and image and materials and outside technology and the immediacy it can bring. But, this should not confuse us. Gennaro is not an outsider.
Gennaro's work has roots in the Surrealist movement with its debt to the subconscious. It also draws to our memory cross- cultural references, like "Ghost" to those of the Caribbean Santos. It brings us into direct contact with mythology and it's spirits through pieces such as "Wizard" of "Green and red Sorcerers." And technically her work forms a direct link to the archaic tradition of stone carving and somewhat serendipitously to folk art.
Gennaro's work covers a lot of ground and at the same time it is crystal clear. Her work so unified by the materials and the consistency of execution and presentation that there is no room to doubt. Her dream- based work is spirit filled and echoes a familiarity that is undeniable. Irene Gennaro's work holds a unique place in the contemporary sculpture, and it is hers alone.