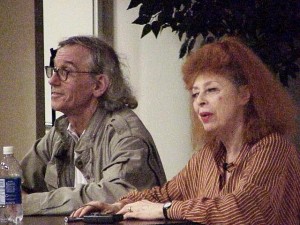 Christo and Jeanne-Claude
January 10 – February 2, 2003
On display in the Gallery are more than 50 documentary images of projects created by environmental artists Christo and Jeanne-Claude. The chronology of the exhibit starts in the early 60's with the Iron Curtain, Wall of Oil Barrels, Rue Visconti, Paris 1961 – 62 and progresses through projects in the 70's, 80's and 90's. Some of the projects included from that time frame are:
Wrapped Coast, Little Bay, One Million Square Feet, Sydney, Australia, 1968 – 1969
Valley Curtain, Rifle, CO, 1970 – 1972
Running Fence, Sonoma and Marin Counties, California, 1972 – 1976
Surrounded Islands, Biscayne Bay, Greater Miami, Florida, 1980 – 1983
The Pont Neuf Wrapped, Paris, 1975 – 1985
The Umbrellas, Japan and USA, 1984 – 1991
Wrapped Trees, Foundation Beyeler and Berower Park, Switzerland, 1997 –1998
The Wall, 13,000 Oil Barrels, Gasometer, Oberhausen, Germany, 1999
The exhibit also includes reproduced renderings of projects in progress such as:
Mastaba of Abu Dhabi, Project for the United Arab Emirates
The Gates, Project for Central Park, New York
Over the River, Project for the Arkansas River, Colorado
The exhibit at Edison College, Gallery of Fine Art is presented in conjunction with Eckert Fine Art-Naples, Inc. After the documentary exhibit and lecture at Edison College, Eckert Fine Art-Naples, Inc. will be hosting an exhibit of original work by Christo and Jeanne-Claude. That exhibit runs from January 30 to February 2, 2003.
Christo and Jeanne-Claude were both born on June 13, 1935. He was born in Bulgaria of a Bulgarian industrialist family and she was born in Morocco of a French military family. Christo studied at the Fine Arts Academy, Sofia, from 1953 through 1956 and also at the Vienna Fine Arts Academy in 1957. Jeanne-Claude received a Baccalaureate in Latin and Philosophy from the University of Tunis in 1952. The couple met in Paris in 1958. Their son, Cyril, was born in 1960. Their first artistic collaboration was in 1961.
Christo and Jeanne-Claude create temporary works of art of amazing allure in enormous scale. Their high profile, site-specific environmental work leads to some of the most extraordinary art experiences the public can have in both rural and urban sites. Their work combines "what is" with "what they envision can be," broadening our perception of art and our perception of space, function and form.
The work of Christo and Jeanne-Claude evolves over years of planning with interviews and lectures and environmental impact studies among the critical parts of the process. It took twenty-five years before the Reichstag could be wrapped, seven years to organize The Umbrellas, ten years to plan The Pont Neuf Wrapped and three years for the Surrounded Islands in Biscayne Bay. And, if it wasn't enough to create the project, educate and interact with the public and various agencies and governments, as well as developing impact studies, each project is funded entirely through the sales of prepatory drawings and early works from the 50's and 60's. They do not accept grants, gifts or sponsorships.
Christo and Jeanne-Claude will be on campus January 29 to give a talk about "The Gates, Project for Central Park, New York" and "Over the River, Project for the Arkansas River, Colorado." The talk is from 4 – 6 p.m. and will be held in Corbin Auditorium, J Bldg., Edison College. Following the talk will be a reception for the artists in the Gallery of Fine Art where the artists will sign books.
The Gallery would like to acknowledge with great appreciation, the generosity of Christo and Jeanne-Claude. The artists have graciously donated all of the images in this exhibit to the Gallery of Fine Art. Each piece in the show is hand-signed by the artists and will be sold at the end of the exhibit. All proceeds from the sale of the images will go to develop future exhibits in the Gallery.
For a complete biography and project information, please visit the artists' web site at: http://www.christojeanneclaude.net/
---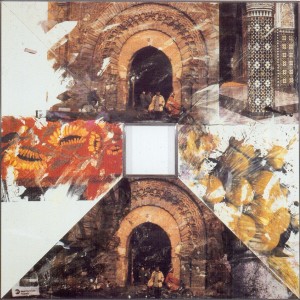 Darryl Pottorf
February 14 – April 6, 2003
The Gallery of Fine Art at Edison College is pleased to present the recent work of Darryl Pottorf.
For more than 20 years Mr. Pottorf has been working as an artist; in that time his work has been exhibited in Florida, California, New York, Ohio, Georgia, Texas as well as Zurich, Switzerland. Mr. Pottorf has worked as an assistant to Bob Rauschenberg since the early 80's and has collaborated with Mr. Rauschenberg on numerous original works of art.
Mr. Pottorf's paintings are developed using a highly technical approach that incorporates photographic images taken by the artist, transferred to the surface of the painting and layered with direct application of pigment. The sophisticated transfer process was developed in the Rauschenberg studio and incorporates original photographs scanned into a computer, then printed in a soluble medium on a transparent film-like material at the scale desired. The image can then be transferred to a surface through pressure application.
Recently, Mr. Pottorf and Mr. Rauschenberg donated their work to benefit Lee County's Trauma Center. The work was shown in January, at the Alliance for the Arts, in an exhibit titled "Art for Life." An exhibit of Mr. Pottorf's work is currently on display at Brenau University in Atlanta, Georgia. Upcoming, Mr. Pottorf will participate in the annual "Arts for ACT" fundraiser in August. Artists from around Southwest Florida, as well as international artists and galleries, donate work to be auctioned. Darryl has been a long time supporter and friend of Abuse Counseling and Treatment, Inc., which benefits from the event.
Mr. Pottorf is a former Edison College student as well as Florida State University graduate. He also studied art in Florence, Italy and shortly thereafter became Robert Rauschenberg's assistant. While an assistant to Rauschenberg he worked on such notable projects as "Quarter Mile" and "R.O.C. I." Mr. Pottorf is represented by Galerie Jamileh Weber, Zurich, Chac-Mool Gallery, Los Angeles and Eckert Fine Art, Naples. Mr. Pottorf lives and works in Captiva, Florida.
---
Annual Student Art Show
April 10 – 30, 2003
This is the final exhibit of the school year and features work created by Edison art students. 1st, 2nd and 3rd place awards will be presented in the categories of Photography, Drawing, Ceramics Painting, Design, Ceramics Wheel and Ceramics Hand. In addition, a "Rising Star" award will be awarded to a full time, first year student who shows exceptional promise.
---
Annual Arts for ACT Preview Exhibit
June 19 – August 20, 2003
This annual favorite features the artwork of local and national artists that have been donated for auction to benefit ACT, INC.
---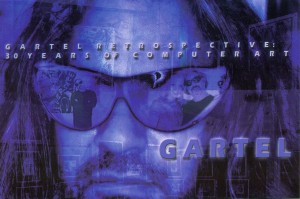 Gartel Retrospective: 30 Years of Computer Art
September 5 – October 19, 2003
The Gallery of Fine Art, Edison College, is pleased to present a 30 year retrospective of the landmark digital works of Laurence Gartel. Mr. Gartel worked with video guru Nam June Paik in the early 70's and created art out of primitive analog systems. This exhibit of Gartel's work is a journey through the entire digital medium while watching the development of one of the true pioneers of computer art.
Mr. Gartel is known world wide as the "Father" of Digital Art. His biography is included in "Who's Who," "Who's Who in the East," "Who's Who in American Art," "Who's Who inAmerica," and "Who's Who in the World." His work has been exhibited in the Museum of Modern Art (MOMA), NYC, PS1, NYC, Princeton Art Museum, Long Beach Museum of Art, the Norton Museum of Art in Florida, and the Smithsonian Institute, to name a limited few.
Born and raised in New York City, Mr. Gartel had the opportunity to teach Andy Warhol how to use the Amiga Computer, went to art school with fellow student Keith Haring, and started his electronic career working side by side with Nam June Paik at Media Study/Buffalo in upstate New York. Gartel has had many associations with musicians such as Debbie Harry (Blondie), Sid Vicious (Sex Pistols), Stiv Bators (Dead Boys), Johnny Thunder (New York Dolls), Ace Frehley (Kiss), and Wendy O. Williams (Plasmatics). Recently Gartel has created artwork for Pop Culture stars such as Justin Timberlake and Britney Spears.
---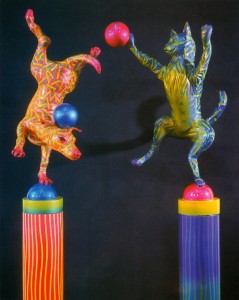 George Snyder and Dan Meyer
October 31 – December 7, 2003
The Gallery of Fine Art is pleased to present the work of George Snyder and Dan Meyer. With literally hundreds of exhibits to their credit these two versatile artists have exhibited their work from coast to coast. From gallery shows to museum exhibitions to corporate collections their work is recognized throughout Florida and nationally.
George Snyder's work has been shown in the Whitney Museum of American Art, NY, the Huntington Museum of Art, W. VA, the Jacksonville Art Museum, FL, the Vero Beach Center for the Arts and the Brevard Art Center and Museum, FL to list just a few. Mr. Snyder's work can be found in the permanent collections of the Maitland Art Center, FL, theVero Beach Center for the Arts, FL, Jacksonville Art Museum, FL and Huntington Museum of Art, W. VA, as well as in the corporate collections of General Electric, Upjohn Company, the Federal Reserve Bank in Richmond,VA and Federal Express. Snyder received a BFA from Marshal University, W. Va. and a MFA from the University of North Carolina, Chapel Hill.
Dan Meyer's work has been exhibited throughout Florida and includes shows at the Vero Beach Center for the Arts, the Brevard Art Center and Museum, FL, the Norton Musuem of Art, FL and Florida Atlantic University to list just a few. Permanent collections of corporate and public institutions that have Meyer's work include Standard Oil, Palm Beach International Airport, Florida Atlantic University, Harley Davidson, Absolut Vodka and McDonalds Corporation to name a few. Dan studied at the Chicago Art Institute, the American Academy of Art and the Naguib School of Sculpture, Chicago.
The exhibit features the individual work of both artists, and the collaborative efforts that combine their sensibilities. While Mr. Snyder's work is generally abstract, his wall constructions and freestanding forms are color-based patterns painted on basic shapes (cylinders or tubes and rectangles.) Mr. Meyer's work tends toward a more fantasy-based realism utilizing a broad range of materials in both 2 and 3 dimensional formats. The common ground between both artists is quickly evident. Rich in color and overall patterning, the resulting collaborative work has a whimsical presence with high technical accomplishment.
http://georgesnyder.com/ http://www.studioegallery.com/category20DanielMeyer.html