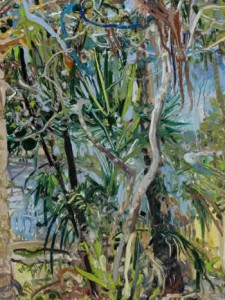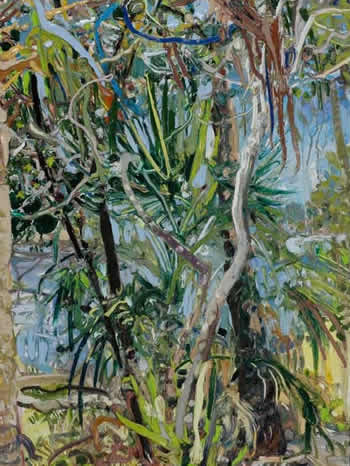 Lilian Garcia-Roig: Nature of Being There
January 16 – February 21, 2009
The works of Lilian Garcia-Roig are anchored in the tradition of landscape painting. But, that is just a stepping stone to what are her main concerns. While her paintings do have the initial impact of looking like landscape 'interiors' it becomes immediately clear her work is less illusionistic than a first glimpse might suggest.
"By creating the illusion of recognizable trees, I draw the viewers comfortably into an assumption that what they perceive will be glimpses of conventional space. Up close, however, the images break down and the lush, gestural paint marks, the squeezed-out patches and the occasional raw canvas help instead, to reinforce the two-dimensional character of abstract painting." – Lilian Garcia-Roig
Lilian Garcia-Roig studied at Southern Methodist University where she received a B.F.A., and at theUniversityofPennsylvaniawhere she received an M.F.A. Ms. Garcia-Roig has been Professor of Art atFloridaStateUniversity,Tallahassee, since 2001 and prior to that, from 1991 to 2001, she was an Associate Professor of Art at The University of Texas, Austin.
To her credit, Ms. Garcia-Roig has received numerous prestigious awards. Among those awards are Florida Individual Artist Fellowship in 2008, Artist Endowment Grant, State of Florida, Milton and Sally Avery Fellow, MacDowell Colony, NH, and was a recipient of the Painters and Sculptors Grant from the Joan Mitchell Foundation, NYC, all in 2006. In 2004 she was the featured artist for Hispanic Heritage Month, State ofFlorida. She was the Visiting Artist of the Ludwig Foundation, Havana Cuba in 1999. Other professional experiences include a Visiting Artist Residency at theVermontStudioCenter, a Fellowship Award in Painting from the Mid-America Arts Alliance/National Endowment for the Arts and Kimbroug Fund Award from theDallasMuseum.
Garcia-Roig's work is included in numerous public collections including the ASU Art Museum, Arizona State University in Tempe, Austin Museum TX, Blanton Museum at the University of Texas, El Paso Museum TX, Museum of South Texas in Corpus Christi, Mexic-Arte Museum in Austin TX, Polk Museum in Lakeland FL, San Angelo Museum of Art, San Angelo TX and the Tyler Museum of Art, Tyler TX.
http://www.liliangarcia-roig.com/
---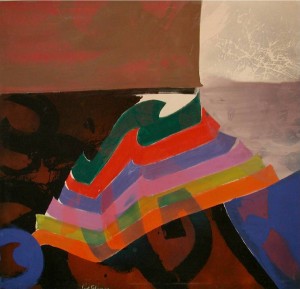 Syd Solomon: On Black
March 13 – April 9, 2009
Syd Solomon (1917–2004) was born inUnion Town,PAand studied at the School of the Art Institute of Chicago. After serving in Europe during WWII, he attended L'Ecole des Beaux-Arts in Paris. InSarasotahe studied at the Ringling School of Art and Design.
This exhibit is the first survey of paintings that focuses exclusively on Solomon's career long involvement with the color black. The exhibit includes 30 works selected from the estate's collection dating from 1945 – 1989. Solomon's works are held in numerous permanent collections including: The Baltimore Museum of Art, Butler Institute of American Art, The Corcoran Gallery of Art, Norton Gallery of Art, Tampa Museum, Tate Gallery in London, Tel Aviv Museum and the Whitney Museum of Art, to name a few.
Though the use of the color black has been an important element of Syd Solomon's work since the beginning of his career, there has never been an exhibition devoted exclusively to his use of the color. The paintings in this exhibit represent some of his most complex works in which black plays a crucial roll. For an artist whose formal interests had to do with layers of colors that are punctuated by gesture, black served as the ultimate context from which all other light emerges.
Solomon once mentioned the effect that Georges Rouault's work had on him when he first encountered it during his studies at L'Ecole des Beaux-Arts in 1945. He said that he was taken by Rouault's use of black, the heavy lines that often delineate the imagery, because they structured the compositions through their rhythms. Solomon followed suit in several studies done inParisin 1945.
By the late 1950s, Solomon had met Franz Kline among other Abstract Expressionists inNew York. The two men had much in common, as both were born aroundWilkes-Barre,Pennsylvania, seven years apart. Both had played football and come from rough beginnings. Solomon visited Kline's studio on several occasions and was influenced by Kline's black brushstroke paintings. The scale of Solomon's marks increases during this time, as is seen in his use of gelatin rollers that made large gestural pathways across his canvases and works on paper from the early 1960s. Black, dark blue or dark brown predominated in his roller works and it was his work from this period that was acquired by the Solomon R. Guggenheim, the Wadsworth Athenaeum andWhitneyMuseum, among others.
Solomon's experimental use of water-based polymers, the precursors to acrylic paint, led him to develop a unique understanding of layering, which manifested itself in his invention of a resist technique using spray paints and masking paste on colored canvas grounds. Solomon's technique had a precedent in the watercolor tradition, in which oral atomizers are used to spray wet colors over existing dried colors saved in certain areas by wax. Solomon was able to make a much larger version of the resist effect using his technique on large canvases. Although Solomon used many colors for grounds to receive his spray applications, it is certainly black which absorbs all other colors so absolutely. Most of the paintings in this exhibition were started on black grounds.
http://sydsolomon.com/Syd_Solomon_1917-2004.html
---
Annual Student Art Show
April 23 – 30, 2009
This exhibition features the work from Edison State College art students and includes painting, drawing, design and photography.
---
Annual Arts for ACT Preview Exhibit
June 26 – August 12, 2009
This annual favorite features the artwork of local and national artists that has been donated to benefit ACT, Inc. It will be located on the Edison State College campus, in the new Special Collections Gallery, first floor of the Rush Library (J-Bldg).
---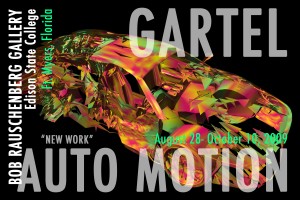 AUTO MOTION
New Work by Laurence Gartel
August 28 – October 10, 2009
The Bob Rauschenberg Gallery is pleased to welcome back to the gallery digital media artist, Laurence Gartel. The exhibit titled "AUTOMOTION" will include one of a kind IRIS PRINTS, multimedia video/animation DVDs, a three-dimensional Ferrari sculpture, as well as other prints based on the inspiration of the Ferrari automobile. The exhibition runs from August 28 throughOctober 10, 2009. The opening and reception will be from6-8 p.m.August 28 with a lecture by Mr. Gartel at7 p.m.in the gallery.
Laurence Gartel has been considered the "father" of the Digital Art medium for over 34 years. His work has been exhibited at the Museum of Modern Art, Long Beach Museum of Art, Princeton Art Museum, Norton Museum of Art, Joan Whitney Payson Museum of Art, and in the permanent collections of the Smithsonian Institution's Museum of American History, Bibliothque Nationale, and most recently the Victoria and Albert (V&A) Museum in London. Mr. Gartel is also the subject of two monograph books: "Laurence M. Gartel: A Cybernetic Romance" with an introduction written by Nam June Paik, published by Gibbs Smith, and "GARTEL: Arte e Tecnologia" published by Edizioni Mazzotta, Milanwith an introduction written by Pierre Restany. Dozens of publications include Mr. Gartel as a major figure of the art of the digital age shifting the course of discipline; among them is "The Digital Print," published by The GETTY MUSEUM, Malibu, California 2009. Mr. Gartel received the "FOTO MENTOR" Lifetime Achievement Award at the Fotofusion Photography Festival, in Delray Beach, Florida in January of 2009.
This is Mr. Gartel's second exhibition at the Bob Rauschenberg Gallery in six years. The new "AUTOMOTION" exhibition is filled with exciting new imagery and techniques, both old and new.
---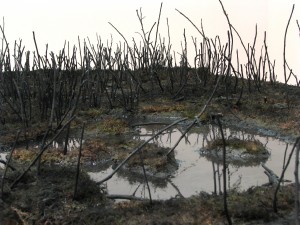 Fire
Blane De St. Croix
October 30 – December 5, 2009
Blane De St. Croix's work articulates humankind's desire to take command over the earth — alluding to conflicts with ecology, politics and ourselves. The work also reveals conflicts with nature, while asking us to reflect on our precarious relationship with our surroundings.
This exhibit will consist of both sculpture and drawings. Included will be works created in the past few years exploring the forest fire as subject and new work created especially for the gallery reflecting upon the subliminal landscape imagery of the Florida Everglades and how it ties into encroachment, conservation and restoration.
Blane De St. Croix was born in Boston Massachusetts; he received an M.F.A. from Cranbrook Academy of Art, Bloomfield Hills, Michigan and a B.F.A. from Massachusetts College of Art, Boston, Massachusetts. Previously, De St. Croix was a visiting Assistant Professor at Whittier College, Whittier, California, and currently he is an Associate Professor at Florida Atlantic University, Boca Raton, Florida. He lives and works in both South Florida and Brooklyn, New York.
http://blanedestcroix.blogspot.com/