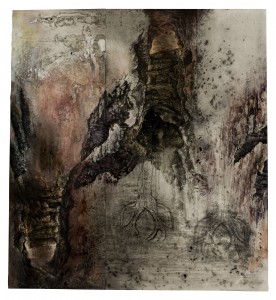 Thomas Lyon Mills: The Catacombs
January 8 – February 13, 2010
In Rome over the years, Thomas Lyon Mills has obtained permission to pass countless hours in places that are not always accessible to the public: Early Christian catacombs long under lock and key; a large ancient Mithraeum adjoining tunnels under the Baths of Caracalla; passageways beneath the Colosseum; the 5th-century church of Santa Maria Antiqua on the Roman Forum. In his native New York State, he retreats to a hidden spot in the Adirondacks, a natural sanctuary where, as in Rome, he absorbs the spiritual energies of the locale. For Mills, these sites invite contemplation, coalescing time, memory and other intangibles. He records in copious notes his impressions of these places and of the pre-16th-century art that deeply moves him, along with transcriptions each morning of his dreams. All find their way into his dense, middling- to large-scale mixed-medium drawings, which reveal their multilayered secrets slowly and incompletely to the beholder. The drawings may be worked on for a period of years. Shapes materialize as if through a process of geological accretion and erosion, with old marks erased to make room for new ones on what become heavily abraded surfaces. The images are generally dark dream spaces with forms dissolving into amorphous browns and blacks. Occasionally, mists of acrid hues waft by or bright light shines in through a chink. In his damp and silent places, weird fauna and flora appear, of unusual shapes and colors. Some seem to glow in the dark. – From Art in America, by Michael Amy
---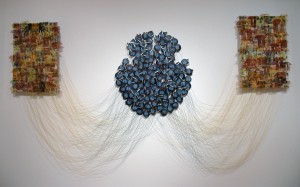 Jan-Ru Wan
February 26 – April 10, 2010
Jan-Ru Wan, born in Taipei, Taiwan, first studied and worked as a fashion designer, but soon wanted to express something deeper with her work, something she calls "the power of thread." That concept, for her, encompasses symbolic and literal imageries of thread as a connector and mender of whatever has been torn. Brought up within the Taoist and Buddhist traditions, Wan's work melds influences of both East and West, and often the words of the Heart Sutra, from Buddhist text, are found printed on the fabrics in her artwork. Her aesthetic embraces both positive and negative spaces, with ethereal volumes suspended on monofilament to create enveloping structures, seemingly arising from the void.
Wan came to the United States in 1990 to attend The School of Art Institute of Chicago. After receiving her BFA she went to The University of Wisconsin where she received an MFA in 1996. Since receiving her MFA, Wan has participated in 19 solo exhibitions, 40 group exhibitions and she has been awarded three important artist residencies; both national and international. In 2008 Wan was the keynote speaker for "Imagination as National Competiveness", held in Seoul, Korea. That same year, she received a North Carolina Visual Art Fellowship, and also was the keynote speaker at the 2008 World Creativity Summit, Taipei, Taiwan. In 2010 alone Wan has solo exhibits scheduled in Canada, California and Florida. Currently, Wan is an assistant professor at North Carolina State University in Greenville.
http://web.mac.com/janruwan/Site/Welcome.html
---
Annual Student Art Show
April 22 – 30, 2010
This exhibition features the work from Edison State College art students and includes painting, drawing, design, ceramics and photography.
---
Annual Arts for ACT Preview Exhibit
June 18 – August 10, 2010
This annual favorite features the artwork of local and national artists that has been donated to benefit ACT, Inc. It will be located on the Edison State College campus, in the Rush Collections Gallery, first floor of the Rush Library (J-Bldg).
This year's theme is "Arabian Nights". Join Abuse Counseling and Treatment, Inc. for the opening reception which will include a Middle Eastern Bazaar, presale of silent auction pieces, and Middle Eastern food and music.
---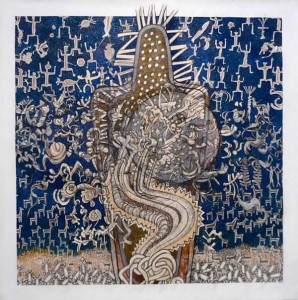 Clive King
August 27 – October 9, 2010
Born in Wales UK, Clive King has been Professor of Fine Art in the Department of Art and Art History, Florida International University since 1992. Previous positions King has held include Chair of Visual Arts at Florida International University and Oxford Brooks University, Oxford, UK. Additionally, King was Head of Communication Arts, Salisbury College of Art, England. King has been awarded numerous fellowships and awards including the Florida Individual Artist Fellowship twice, the SECAC Fellowship twice, and a Southern Arts Federation Fellowship. He has had over 20 one-person exhibitions including the FIU Art Museum, Museum of Modern Art, Wales, UK, Vanderbilt University, Nashville, TN, University of Alabama and the Jacksonville Museum of Modern Art, FL and has contributed to over 100 group shows over the life of his career. He has been an artist in residence at the Kansas City Art Institute, MO, the University of Wisconsin and the University of Minnesota, just to mention a few. King's work is held in numerous private and public collections in Britain, the United States and Europe, including the Museum of Modern Art, Wales, UK, and Florida International University, Miami.
---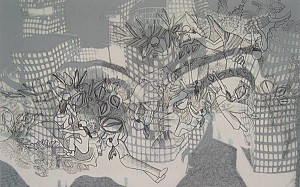 Florida Individual Artist Fellowship Exhibition
October 22 – December 4, 2010
This exhibition features the artwork of the 25 recipients of the 2008 Individual Artist Fellowship Award in Visual Arts. Each artist included in this exhibition was reviewed by a panel of their peers and selected through a highly competitive process. Since 1976, the Individual Artist Fellowship Program has offered awards to Florida artists in recognition of their work and talent. The $5,000 awards support the artist's general career achievements over the fellowship period. Awards are given in the disciplines of Visual Arts (both two and three-dimensional), Folk Arts, Media Arts, Dance, Theatre, Music, Interdisciplinary, and Literature.
http://www.florida-arts.org/programs/fellowship/recipients/