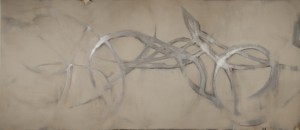 Faculty Exhibit: Threshold: Dana Roes
January 11 – February 16, 2013
Dana Roes received her MFA in Painting from the University of Pennsylvania in 1993 where she developed her interest in abstraction as a means of creating psychological/intellectual spaces which suggest that the nature of reality is interactive and changeable. Her current body of work, Threshold, was created during a tumultuous period of transition. These paintings speak of the in-between: neither coming nor going, material nor immaterial, they evoke the satisfaction that can be found in transit and allow the viewer to become comfortable with the uncomfortable state of ambiguity before arrival.
During her studies she was invited to Skowhegan School of Painting and Sculpture where she had the opportunity to discuss her work with Gregory Amenoff, Per Kirby, Brice Marden, Ann Hamilton and Joan Semmel. She spent a year in Iceland on a Fulbright scholarship which culminated in an exhibition of her series, The Red Body at the Gallery Listamidstodim. Her work has been included in numerous exhibitions throughout the States as well as in Sweden, Australia, and China and she has been featured in solo exhibitions at the Fay Gold Gallery in Atlanta and the Larry Siroli Gallery in Chelsea. She came to Edison State in 2009 after teaching at Savannah College of Art and Design and Carnegie-Mellon and has been devoting much of her time to developing our Fine Art Program.
http://www.danaroes.com/index.html
---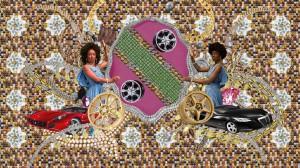 Eye on the Storm
March 1 – April 13, 2013
Curated by D. Dominick Lombardi
Artists can explore, reflect, extrapolate or rearrange in any number of ways, the barrage of endless data from hard news to social media that we all must navigate, initiate or muddle through each day.
The art in this exhibition responds to or reflects upon the sometimes-overwhelming storm of information in roughly three phases. The calm comes into view with mixed media works like Touch, by Anita Arliss, which captures the haunting stillness right before a disruptive event. The storm has representation with the collages of Chambliss Giobbi, which suggests the storm may have its greatest effect on the human psyche. The aftermath is expressed with works like Trong Nguyen's Library, where the artist, in an attempt to put all the pieces back together again, writes the entire text of various books, word for word, on individual grains of rice.With these fresh interpretations through the artist's eye on the storm comes a very different, and perhaps better and more thought provoking understanding of the world around us.
Artists in the exhibition: Isak Applin, Anita Arliss, Jonathan Beer, Susan Breen, Mia Brownell, Ernest Concepcion, Paul Gagner, Chambliss Giobbi, Richard Höglund, Shawn Huckins, Marcus Jansen, Arcady Kotler, D. Dominick Lombardi, Marci MacGuffie, Tim Merry, Arnold Mesches, Rashaad Newsome, Trong Nguyen, Leah Oates, Rebecca Reeve, Holly Sears, Karen Shaw, Patricia Smith, D. Jack Solomon and Melanie Vote.
Please visit our catalog link at:
http://media.icompendium.com/ddlombar_Eye-on-the-Storm.pdf
---
All College Annual Student Art Show
April 25 – May 3, 2013
This show features Edison State College student work from the past academic year. The gallery is pleased to have Hollis Jeffcoat serve as judge this year. Ms. Jeffcoat has previously had two solo exhibits at the Bob Rauschenberg Gallery and her work is in the collections of many institutions including The Metropolitan Museum of Art, New York, NY. Ms. Jeffcoat will select 16 winners from the exhibit including one "Best of Show" award, five Awards of Excellence, and ten "Honorable Mention" awards.
---
Lawrence Voytek
May 17 – June 22, 2013
Lawrence Voytek was the director of art production for Robert Rauschenberg for over 28 years, and has consulted for art installation, fabrication and restoration with renowned national and international museums and galleries. Voytek studied at the Rhode Island School of Design and the San Francisco Art Institute. Voytek's work can be found in many important corporate and private collections.
---
Annual Arts for ACT Preview Exhibit
July 12 – August 7, 2013
This marks the 13th year that the Bob Rauschenberg Gallery has sponsored the Arts for ACT preview exhibit. Artists, galleries, organizations and businesses throughout the region join together in support of ACT, Inc in its fight to end domestic violence.
Each year hundreds of pieces of original artwork are donated to ACT, Inc to be sold to benefit their programs. The Bob Rauschenberg Gallery is very pleased to host the preview exhibit and offer our space to display the work that has generously been given to ACT, Inc. As one of the community's leading arts venues, it is our privilege to not only support the efforts of this organization, but also the many talented individuals who have donated their time and work to benefit ACT, Inc.