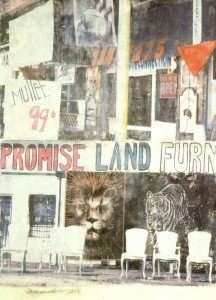 March 28 – April 28, 2002
The Gallery of Fine Art, Edison College, is pleased to welcome back world-renowned  artist Robert Rauschenberg.  This exhibit, titled  "Robert Rauschenberg: Recent Work" is taken from Mr. Rauschenberg's most recent series of paintings, titled "Short Stories," which was executed between 2000 and 2002.   The exhibit will open March 28 and run through April 28, 2002.  The exhibit opens to the public on March 28with a reception in the Gallery from 6 – 9 p.m.  Kat Epple will perform and the Docents of the Gallery will provide refreshments.
Robert Rauschenberg, often cited as the most important artist of his generation, did more than any other artist to reach beyond contemporary thinking by challenging limits, perceptions, and every other boundary in sight.  After all, this is the artist who erased a deKooning drawing, created a tire impression on paper with John Cage, worked extensively with the Merce Cunningham Dance Company, ushered in "Happenings" and "Pop Art," and influenced virtually all artistic thinking since Abstract Expressionism.
A career retrospective was organized by and displayed at the Solomon R. Guggenheim Museum, New York and the Guggenheim Museum, Soho, in late 1997.  The exhibit of more than 400 pieces showed Rauschenberg from 1948 to the present.  In the fifty years of relentless pursuit of imagery, Rauschenberg's mark of free association and experimentation is seen on painting, performance, collage, sculpture, printmaking, and photography.  It was Rauschenberg's first retrospective since 1976 and one of the largest exhibitions ever held of work by a living artist.  Following the New York opening the exhibit began touring with stops in Houston, Texas, as well as venues in Germany and Spain.
The exhibit at The Gallery of Fine Art, Edison College, is comprised of 15 large format pieces, measuring 85 ½" x 61", that were completed between 2000 and 2002.   The mixed media work, all on polylaminate, was executed using a pigment transfer process or  vegetable dye transfer process, and also incorporates acrylic and/or graphite. The highly technical process Mr. Rauschenberg uses to create his work was developed at his Captiva studio.  The process includes creating, on a film, computer-driven soluble (transferable) laser images of Mr. Rauschenberg's own photographs.  Those laser images are then used by Mr. Rauschenberg in creating his paintings.
To make this exhibit more accessible to the students and faculty at Edison Community College and to the greater Fort Myers area, the normal days of operation are being extended to include Mondays.