William WEGMAN & Jack MASSING:
TWO CLEVER BY HALF – A Call & Response Project
September 2, 2021 – March 26, 2022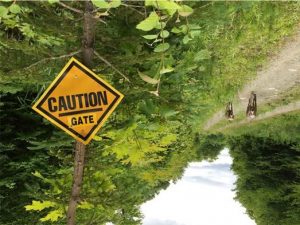 The Bob Rauschenberg Gallery at FSW is honored to present "William WEGMAN & Jack MASSING: TWO CLEVER BY HALF – A Call & Response Project" at the Bob Rauschenberg Gallery from September 2, 2021 – March 26, 2022. Described by the artists as "an experimental visual discussion in a studio setting within the Gallery," this site-specific exhibition will premiere newly-commissioned collaborative works in a frequently evolving installation. With the artists-in-residence often creating work in "full-view" during regular/public Gallery hours, this exhibition will provide an unprecedented opportunity to experience the "work-in-progress" of internationally-renowned (yet, first-time) collaborators, Jack Massing and William Wegman.
Best known for photography, video, paintings and drawings frequently depicting his beloved subject of Weimaraner dogs with great humor, character and gravitas, William Wegman (b. 1943) has been featured in numerous solo gallery exhibitions and museum retrospectives throughout the United States, Europe and Asia since the 1970's. He has created film works for Nickelodeon, Sesame Street and Saturday Night Live, and been a featured guest on The Tonight Show with Johnny Carson and with Jay Leno, Late Night with David Letterman and The Colbert Report.
For more than 35 years, from 1983 until his partner's death in 2019, Jack Massing (b. 1959) collaborated almost exclusively with Michael Galbreth as the conceptual artists duo, The Art Guys. Experimenting with a wide range of materials and activities, using a "direct-to-the public" methodology that often circumvented the established art world, The Art Guys staged exhibitions and events at grocery stores, movie theaters, airports, restaurants, sports arenas, and many other non-traditional venues, while also exploiting mass media and entertainment to explore contemporary society. Once described in the New York Times as "a cross between Dada and David Letterman, John Cage and the Smothers Brothers," Massing and Galbreth, much like current collaborator William Wegman, were known to use humor and everyday materials as a way to demystify art and to welcome a broad range of audiences. Likened to medieval court jesters and fools, The Art Guys not only accepted, but greatly appreciated the comparison. Well known for The Art Guys numerous staged performances, public spectacles and "behavioral" interventions, Jack Massing has consistently challenged perceived divisions between art and life.
Presenting these collaborative exchanges for the first time (and as they are conceived), Jack Massing and William Wegman will premiere their "experimental visual discussion in a studio setting" within the Bob Rauschenberg Gallery on the Fort Myers campus of Florida Southwestern State College.
This exhibition was generously sponsored by Carolann Swanson & Steve Hubbard and Enid & Martin Packard.
Photos courtesy of Brian Tietz
---
Mark MOTHERSBAUGH & Beatie WOLFE
May 17 – Aug 8, 2021
The Bob Rauschenberg Gallery at FSW is honored to announce the premiere of Mark Mothersbaugh and Beatie Wolfe's collective art campaign, Postcards for Democracy.
POSTCARDS FOR DEMOCRACY:
The resulting Gallery exhibition is expansive, immersive and participatory, but the concept continues to be quite simple: create and mail your postcard design to 8760 Sunset Blvd, Los Angeles, CA 90069 to become part of this art demonstration and in doing so support USPS and democracy in the process.
Artistic visionaries Mark Mothersbaugh and Beatie Wolfe – who share a love of tangible art-forms, in and amongst their futuristic explorations – joined forces to create Postcards for Democracy, a collective art campaign in support of the United States Postal Service (USPS) and its essential role in our elections.
The pair have received thousands of cards to date covering themes such as covid, democracy, capitalism, the environment, social injustice, science and even insomnia. Together these postcards (like the exhibition itself) form something of a time capsule – reflecting our collective experience personally, socially, societally, politically, and environmentally – while the archive expands with ongoing contributions
This May through August, the Bob Rauschenberg Gallery will collaborate with the artists to present a site-specific installation: the first public showing of Postcards for Democracy. Both Mothersbaugh and Wolfe have strong ties with Rauschenberg's work and ethos, Mothersbaugh in his adoption of Pop imagery and early experimentation with industrial printing techniques (including cyanotype) and Wolfe due to her reboot of the Rauschenberg founded E.A.T. program (Experiments in Art and Technology) of the late 60s with her Raw Space project.
"What better way than to use the very system of the USPS as proof of concept that if we protest through art and connection, we not only capture this moment, but we also create a movement and preserve it for posterity." – Mark Mothersbaugh
"Lockdown has reminded me of the joy and importance of physical comms at a time when it's more important than ever. And mail connects us in a way that technology never can. So let's use it before we lose it!" – Beatie Wolfe
---
Mark Mothersbaugh
As a young art student at Kent State University, Mothersbaugh first started making postcard art in the early '70's and exchanging work with known and unknown artists alike. Through these exchanges, he realized that he was creating an image bank and a lyric collection that served as a basis of inspiration that he would later use in the creation of his seminal art-rock band, DEVO. Since then, he has filled over 490 archival volumes of 100 cards each. These cards became the basis of his most recent show Myopia, a retrospective beginning in 2015 focusing on modern man's ongoing, internal dialogue of beatnik stream of consciousness poetry, the surrendering of the intellect to the primordial and science vs. faith.
Mark has shown his visual art in over 125 solo exhibits over the last 35 years, with touring shows "Homeland Invasion", "Beautiful Mutants", and "Myopia", a 30,000 object retrospective in 2015. His art has been featured on numerous books, album art, and consumer products. He has collaborated musically with artists such as Brian Eno, David Bowie, Iggy Pop, Beck, The B52s, and Neil Young to name a few.
He was given an honorary doctorate of humanitarian letters from Kent State in 2008.
---
Beatie Wolfe
"Musical weirdo and visionary" Beatie Wolfe is an artist who has beamed her music into space, been appointed a UN Women role model for innovation, and held an acclaimed solo exhibition of her 'world first' album designs at the Victoria & Albert Museum.
Named by WIRED Magazine as one of "22 people changing the world," singer-songwriter and innovator Beatie Wolfe is at the forefront of pioneering new formats for music that bridge the physical and digital, which include: a 3D theatre for the palm of your hand; a wearable record jacket – cut by Bowie/ Hendrix's tailor out of fabric woven with Wolfe's music – and most recently an 'anti-stream' from the quietest room on earth and space beam via the Big Bang horn.
The Barbican recently commissioned a documentary about Beatie Wolfe's pioneering work titled Orange Juice for the Ears: From Space Beams to Anti-Streams and Wolfe's latest innovation is an environmental protest piece built using 800,000 years of historic data that will be premiered at the London Design Biennale in 2021.
---
Bob Rauschenberg Gallery at FSW
The Bob Rauschenberg Gallery was founded as The Gallery of Fine Art in 1979 on the Lee County campus of Florida Southwestern State College/FSW (then Edison Community College). On June 4th 2004 the Gallery of Fine Art was renamed the Bob Rauschenberg Gallery, to honor and commemorate our longtime association and friendship with the artist. Over more than three decades until his death, the Gallery worked closely with Rauschenberg to present world premiere exhibitions including multiple installations of the ¼ Mile or Two Furlong Piece. The artist insisted on naming the space the Bob Rauschenberg Gallery (versus the "Robert Rauschenberg Gallery") as it was consistent with the intimate, informal relationship he maintained with both our local Southwest Florida community and FSW.
Photos courtesy of Brian Tietz
Photos courtesy of Alejandro Gómez
"With Postcards for Democracy, Mark Mothersbaugh and Beatie Wolfe Deliver Priority Mail Art" – The Austin Chronicle (March 12, 2021)
"Postcards for Democracy Exhibition Comes to Bob Rauschenberg Gallery" – WGCU (NPR) (May 13, 2021)
"Mark Mothersbaugh + Beatie Wolfe Collect Postcards for Democracy To Save USPS" – Design Milk (February 18, 2021)
"Tampa native teams up with Beatie Wolfe and Devo's Mark Mothersbaugh for 'Postcards' art exhibition" – Creative Loafing (June 4, 2021)
"Destination: Postcards for Democracy, Rauschenberg Gallery, Fort Myers" – 83Degrees (June 3, 2021)
"Exhibit takes on U.S. mail, 2020 election. 'We love the post office,' says Devo's Mark Mothersbaugh" – Naples Daily News ( June, 2021)
---
Christo and Jeanne-Claude
The Tom Golden Collection
January 11 – April 17, 2021
The Tom Golden Collection surveys the extraordinary career of artists Christo and Jeanne-Claude through collages, prints, photographs, drawings and objects. Drawn from the permanent collection of the Museum of Sonoma County—the most extensive private collection in the United States—the exhibition spans 37 years of the Christos' career.
Christo and Jeanne-Claude were famous for their large-scale environmental projects that temporarily altered urban and rural landscapes in Europe, the United States, Australia and Japan. Each of the artists' projects, from the earliest to the most recent, existed only briefly, but were anticipated with suspense for months and even years while being planned. Their works defied easy categorization: always public, they were otherwise a unique mix of earth, installation, and conceptual art. While the temporary nature of Christo and Jeanne-Claude's work may suggest an anti-materialist bent, the artists were nonetheless determined to concretely realize their monumental concepts through political and physical action, if for only a short time. More closely related to architecture in their monumentality and realization than to traditional art forms, the Christos' projects involved an incredible number of steps—logistical, political, social, and economic. The important role that process plays in the Christos' work was unique to these artists.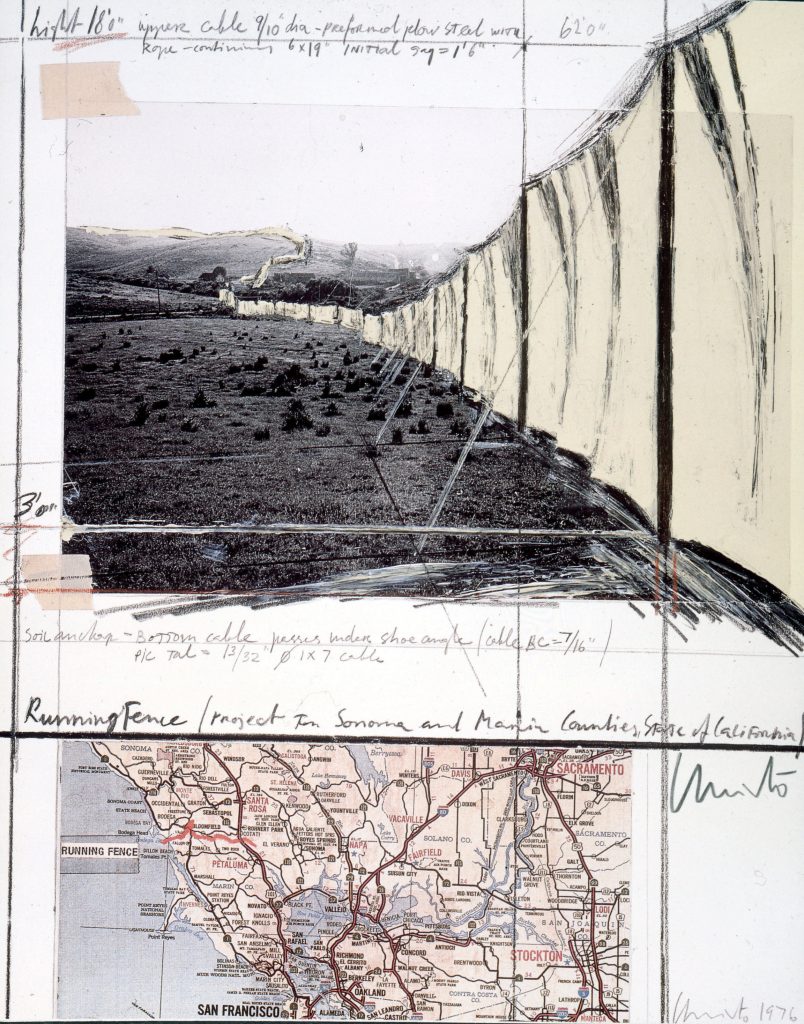 Equally important to understanding Christo and Jeanne-Claude's work are the original drawings, collages, and prints that were integral to the creation of their large projects. Unlike many other artists, Christo and Jeanne-Claude never sought grants, sponsorships, and commissions, instead treating these small-scale works as capital by using the income derived from their sale to pay for the large-scale installations. While Jeanne-Claude died in 2009 and Christo passed away last year, their work remains a widely recognized touchstone of contemporary art. The Museum of Sonoma County's collection contains work made between 1962 and 2000, powerfully illustrating the art of Christo and Jeanne-Claude over that period of time.
Christo and Jeanne-Claude first visited the Bob Rauschenberg Gallery and our Florida Southwestern State College campus in 2003. They presented a lecture on their collaborations to an appreciative standing-room-only audience of students, faculty and community, and exhibited documentation of their many projects at that time. They generously donated hand-signed posters that were then sold to benefit our programming, and always maintained connections with their many friends here in Florida.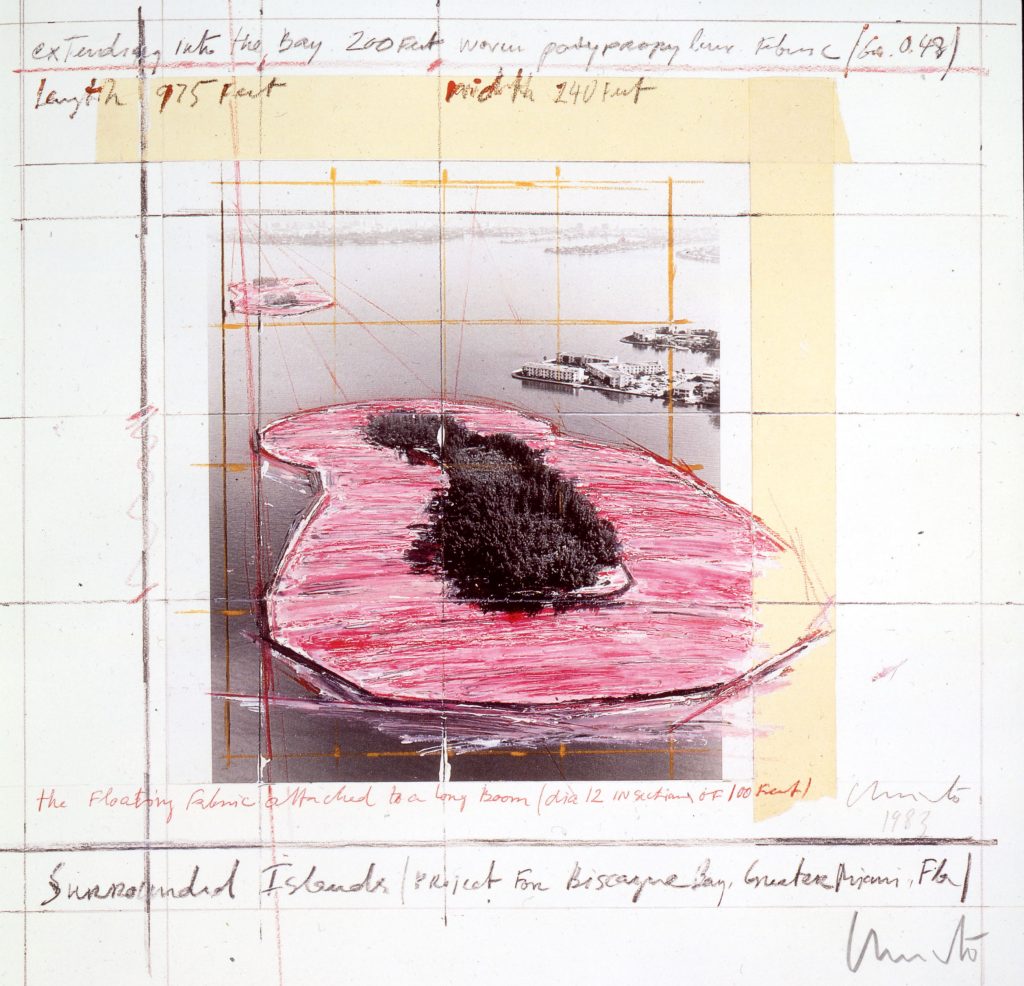 This exhibition was organized by the Museum of Sonoma County and is toured by Landau Traveling Exhibitions. Additional loans, including a large-scale remnant of "Running Fence" (1976), were provided by the Kent State University Art Galleries, and the exhibition was generously sponsored locally by Elliot & Holden Green.
"Remnants of Christo and Jeanne-Claude's massive art in Fort Myers show" – News-Press (January 22, 2021)
"'Christo & Jeanne-Claude: The Tom Golden Collection' opens at the Bob Rauschenberg Gallery at FSW" – ArtDaily (January, 2021)
For additional information please call: 239-489-9313
Like us on Facebook and follow us on Instagram!