RAUSCHENBERG: A Gift in Your Pocket
From the Collections of Friends in Honor of Bradley Jeffries
April 25 – July 23, 2022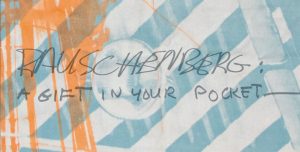 The Bob Rauschenberg Gallery at FSW is honored to present "RAUSCHENBERG: A Gift in Your Pocket – From the Collections of Friends in Honor of Bradley Jeffries" at the Bob Rauschenberg Gallery from April 25 – July 23, 2022.
---
Robert Rauschenberg (1925–2008) was one of the twentieth century's most significant artists, working in media including painting, sculpture, printmaking, photography, and performance. His inclusive practice spanned six decades, during which he combined traditional art materials with ordinary objects from the urban and beachfront environments in which he lived. He cultivated new techniques that served his conceptual and aesthetic goals, and collaborated with scientists, technicians, and various assistants.
Bradley Jeffries (1949–2021) was born in Columbia, Kentucky, and graduated from the University of Kentucky with a degree in Journalism in 1971. After graduation, she settled in Sanibel, Florida, where she had a regular newspaper column and a weekly spot on television news. A chance encounter with Rauschenberg on Captiva Island in the late 1970s, led to her becoming his studio manager and confidant for almost thirty years. Jeffries was gatekeeper for the artist, providing or denying access to the numerous galleries, museums, other artists, celebrities, and fans who sought to contact him. She accompanied him to exhibitions and events around the globe, and was on the Board of Directors of Change, Inc. and The Rauschenberg Foundation, granting organizations dedicated to supporting other artists, and causes including world peace, the environment, and humanitarian issues.
"RAUSCHENBERG: A Gift in Your Pocket" brings together never-before-exhibited original paintings, drawings, and photographs that were gifted to Jeffries by the artist, as well as personal objects and ephemera that honor their friendship. They are tokens of respect and appreciation, offering insights into Rauschenberg's use of printmaking and transfer drawing procedures, and his blending of personal and appropriated images. The exhibition is curated by Jade Dellinger, director of the Bob Rauschenberg Gallery at Florida Southwestern State College, and will travel to the University of Kentucky Art Museum in Lexington and then on to the Black Mountain College Museum + Arts Center in 2023.
The exhibition would not be possible without the participation and support of Bradley Jeffries's family, especially Mary Lynn Houlihan and Ann Todd Dupree. We are thankful for their generosity and trust.
Photos courtesy of Brian Tietz